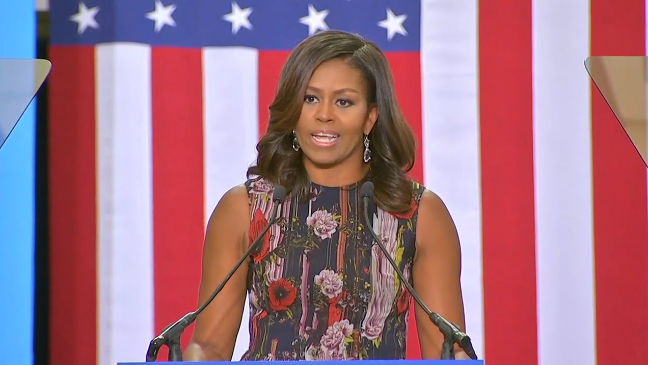 First lady Michelle Obama said Friday there is only one candidate for president who is ready to face "the hottest, harshest light there is," and that's Hillary Clinton.
Speaking before a crowd at George Mason University, she urged Americans to go out and vote for Clinton, a candidate who inspires her and is "truly ready for this job," and held Clinton in contrast with Donald Trump, though she didn't mention Trump by name.
"Who in this election is truly ready for this job? Who do we pick? Well for me, I'm just saying', it is excruciatingly clear," Obama said, adding that Clinton "has the resilience that it takes to do this job."
It was Obama's first campaign event for the Democratic nominee since she appeared at the Democratic National Convention. When Clinton returned to the campaign trail this week after a brief illness, she promised a more aspirational finish to her White House bid. And she used Michelle Obama as a guidepost.
"As Michelle Obama said in her fabulous speech at the Democratic Convention, when we go to the polls this November, the real choice isn't between Democrat or Republican. It's about who will have the power to shape our children for the next four years of their lives," Clinton said Thursday during a campaign stop in Greensboro, North Carolina.
It's a message Clinton aides wanted Mrs. Obama herself delivering in battleground states as much as possible between now and Election Day. So far, the first lady has publicly committed only to Friday's event — a rally Friday afternoon in northern Virginia, less than an hour drive from the White House — though the campaign expects her to make additional appearances.
Mrs. Obama's rally Friday was aimed in part at encouraging Virginia voters to register ahead of the state's Oct. 17 deadline. But her broader mission is to rally the groups who were so crucial to her husband's two White House wins: young people, many of whom are skeptical of Clinton, and black voters, who overwhelmingly back Clinton over Republican Donald Trump, but need to show up to vote in big numbers.
"On November 8, you will decide whether we have a president who believes in science and will fight climate change or not," Obama said.
Mrs. Obama's speech at the Democratic convention this summer was widely praised. Her primetime address ran just about 10 minutes, yet it was perhaps the most powerful of the four-day gathering.
She delivered a searing indictment of Trump, also without ever mentioning his name, yet wrapped her critique in the hopeful optimism of a mother trying to protect her daughters' futures. She spoke of telling her daughters that "the hateful language they hear from public figures on TV does not represent the true spirit of this country" and said the Obama family motto is "when they go low, we go high."
In the midst of a heated campaign, with two candidates who are viewed negatively by so many Americans, the first lady provided a striking contrast.
"Part of what makes her so appealing and effective as a surrogate is that she's relentlessly positive, even when things on the campaign trail get negative," said Olivia Alair Dalton, Mrs. Obama's former spokeswoman. "It was a breath of fresh air."
Mrs. Obama has carefully cultivated her image as a devoted mother who prefers to stay out of the political fray. She sets limits on how often she's willing to campaign, even for her husband's White House races, and largely steers clear of controversial topics. And she's embraced her role as a pop culture fixture far more willingly than her role as one of the most popular figures in Democratic politics.
Unlike her husband, who forged a strong bond with Clinton during her four years as his secretary of state, Mrs. Obama does not have a particularly close relationship with the Democratic nominee, though the two are said to be friendly.
Yet the first lady is fiercely protective of her husband's legacy and has been a major player in discussions about his presidential library and other post-White House projects. And there's perhaps nothing more crucial to preserving Obama's legacy than a Clinton victory.
Copyright AP - Associated Press