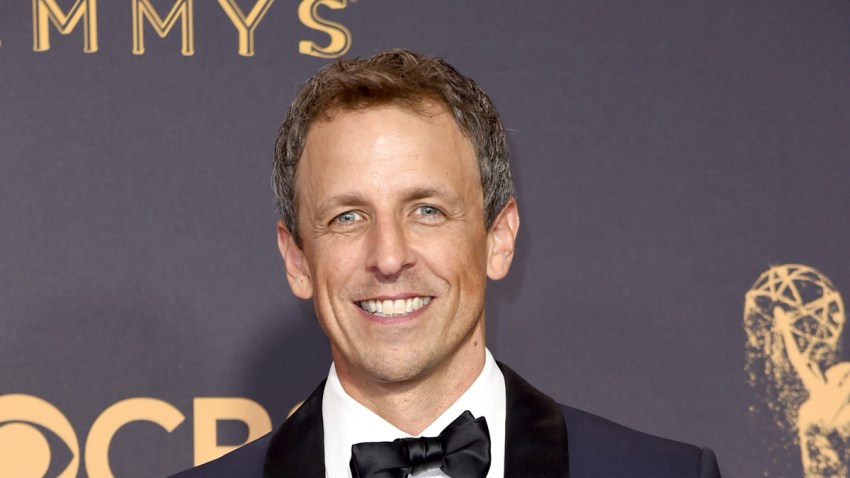 While Seth Meyers doesn't shy away from the biggest news stories of the day, the ongoing allegations against Harvey Weinstein make it more challenging.
The "Late Night with Seth Meyers" host says it's a delicate balance to joke about Weinstein as the avalanche of sexual harassment and assault allegations continue to roll in against the fallen mogul.
"I don't think the tragedy ever ends. That's one of the challenges — trying to find a way to talk about it that is also comedy," Meyers said Tuesday night. "We, as a whole staff, had to process it. And it's very hard when you're talking about things like sexual assault to think, 'I have the perfect joke for this.' So, yeah, it's a conversation. I think all the shows have conversations about how do we talk about this in a way that respects the victims, while also making sure we're not ignoring a big story."
Meyers spoke before participating in a discussion at the Paley Center for Media moderated by "Saturday Night Live" writer and Weekend Update co-host Colin Jost.
As the Weinstein scandal continues to rock Hollywood, his alma mater, the University of Buffalo, has announced that they plan to revoke Weinstein's honorary degree that they awarded him in 2000.
Meyers joins hosts Jimmy Kimmel, Stephen Colbert and Trevor Noah as the late-night aficionados of political comedy. Their humor centers on President Donald Trump, and Meyers feels for good reason.
"It's a really good group of people to be considered a peer of right now. I do feel like everyone is doing it at a really high level so just to have our name in that group is an accomplishment. It's an interesting time. I think it really stems from having an entertainer as the president makes entertainers better suited to talk about him sometimes because it is a show more than anything else. It's a weird time to be talking about the news every day, but I would not know what to talk about if not that."
Still, dealing with the steady stream of news coming from the White House can be a daunting task, since there's always a Trump comment, tweet, or incident to report on.
"Yeah, that's one of the challenges. I think the thing that none of us ever expected to be drafted for was addressing heavy news stories, but I think, certainly for us — I can't speak for the other shows — it would be conspicuous in its absence if things happened that we decided we didn't want to talk about. So it is a weird time to be doing it. Hopefully, we're also creating a show that helps people process the news over the course of a day. But we can only do the show we know how to do."
The discussion was part of Paleyfest, an annual festival held in Los Angeles and New York with a panel of special guests. The eleven-day celebration brings together the cast and creative teams of the most popular television shows for screenings and panel discussions.
Copyright AP - Associated Press