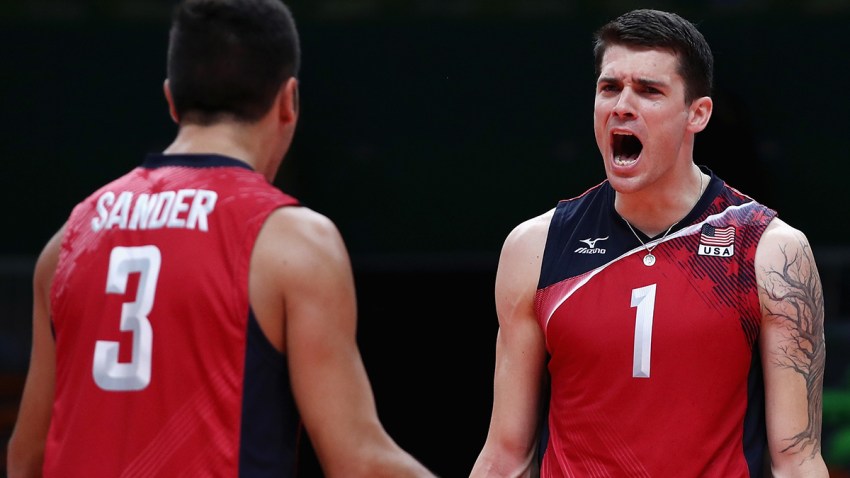 The U.S. men's volleyball team bounced back from a two-set deficit to win the bronze medal match with a 3-2 victory over Russia on Sunday.
Ranked fifth in the world, the Americans won 23-25, 21-25, 25-19, 25-19, 15-13. Matt Anderson spiked for match point against the stunned Russians.
The Americans linked arms in a tight circle and hopped in celebration as the crowd chanted "U-S-A!" The victory came the day after the U.S. women's team also won the Olympic bronze medal.
U.S. & World
The United States has three gold medals in men's volleyball, most recently in the 2006 Beijing Games. The Americans won the bronze in Barcelona in 1992.
Russia had three bronze medals in the sport. The perennial powerhouse has won four gold medals and three silvers since the sport joined the event in 1964.
The USA men got out to a rough start in the Rio Olympics, losing the first two matches in the preliminary round before ripping off a 4-0 run that included taking down the top-ranked team in the world, Brazil, in front of its home crowd in the prelims and then the No. 2 team, Poland, in a quarterfinals sweep.
But the story of the U.S. men's tournament right now is their inability to beat Italy, which might be playing the best volleyball of any team in Rio.
The two men's medal matches on Sunday are rematches from the 2004 Athens Games, when Brazil beat Italy for gold and Russia beat the U.S. for bronze.
Italy beat the U.S. in four sets in prelims and then in five sets in the semifinals on Thursday and now will play for the gold against host Brazil Sunday afternoon.
In some ways, the bronze medal match had more pressure than the gold medal contest: only one team would with hardware while the other would board a flight out of Rio empty-handed.
There's the psychological factor, too. Both teams playing in the bronze medal match were one win away from playing for a gold medal and instead had to shift gears and come back to perform at a high level.
Copyright Rio2016