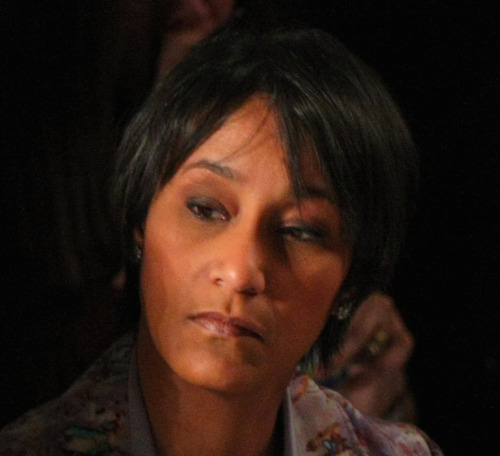 The Obamas' high-profile party planner isn't your typical White House social secretary.
Desiree Rogers, 49, has planned egalitarian balls, poetry slams and major concerts at the White House. She has also appeared in the front row next to Anna Wintour during a runway show at New York Fashion Week.
The stylish fashionista isn't just a social planner -- she's a socialite herself.
Rogers told the Chicago Tribune that she is trying to bring glamour, history and an urban sensibility to the White House as her role as social secretary -- and most of all, she wants to create what she calls "the people's house."
"Something that we've talked about from early on is making it the people's house," she told the paper. "How can we salute -- encourage the American spirit? That means many different things to many different people."
Rogers was the force behind inviting R&B band Earth, Wind and Fire to the Obamas' first formal dinner and she planned the concert that honored soul legend and Obama favorite Stevie Wonder. She even offered mixed-china place settings at the black-tie governor's dinner, the Trib reported.
The Super Bowl party at the White House even featured a kids play area with a Nintendo Wii.
And tens of thousands of visitors are expected to show up at what is billed as the largest-ever White House Easter Egg Roll this year after Rogers distributed tickets to the public online for the first time.
"This is not necessarily a presidency that duplicates or copies," Rogers told the Chicago Tribune, rejecting comparisons to the Kennedy's vibrant White House social life. "The Obamas have their own style"
And so does Rogers. A former Chicago business executive with a flair for fashion, the first African American White House social secretary was profiled in the Sept. 2004 issue of Vogue and was described as "proving that chic and executive can co-exist."
Rogers has a Harvard MBA and was in charge of creating a social network to connect with customers at Allstate before her tenure at the White House. Now, she said she tries to align herself with Obama's vision of his office and help him build relationships with other power players, the paper reported.
"To have a successful presidency, the social life of the White House had to match the times," Kennedy biographer Laurence Leamer told the Tribune. "There's no book that tells you how to do this. You have to feel your way through what you want to do."