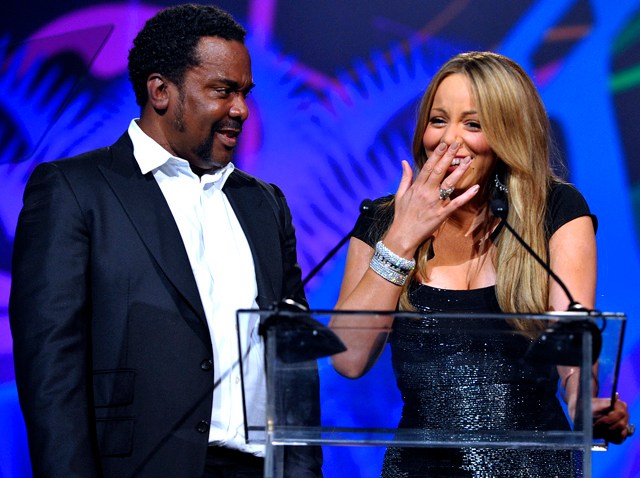 Maybe Mariah Carey should sing instead of speak next time she picks up an award.
The songbird delivered a loopy and rambling speech at the Palm Springs International Film Festival awards Tuesday where she was lauded as Breakthrough Actress for her performance in "Precious: Based on the Novel 'Push' by Sapphire."

Wearing a clingy, black-beaded full-length Herve Leger gown, Carey greeted her presenter and "Precious" director Lee Daniels with a little dance and a big hug.

Carey paused for a long moment, looked to the ceiling, sighed and said, "Please forgive me, because I'm a little bit, um ..." When an audience member shouted speculation about her condition, Carey pointed and replied, "Yeah!"
"Oh my goodness!" she bellowed.
Carey went on to recount first reading "Push," and meeting one of the night's other winners, Helen Mirren, whom Daniels said turned down the "Precious" role.

As she praised Daniels' work, Carey spontaneously burst into applause.

"Sorry," she told Daniels. "Sometimes I get a little ..." Carey then stopped cold to snap her fingers, then added "... you know, difficult." And then she giggled again.

Carey went on to share a story about how Daniels told her to play the part, he needed her to listen to him. She was trying to elaborate, and couldn't come up with the words. She motioned to her face and said, "What do you call it?" When Daniels said he told her to remove her makeup, she said, "You could take my makeup off and I don't look like that (expletive) from the thing," referring to her "Precious" character. "Oh, God," Daniels moaned, turning away from Carey.

A full minute before Carey and Daniels finally left the stage, the audience had begun to applaud them off. "I thank you all for all listening to my little spiel," Carey said, wearily, "and God bless you."

Carey didn't return to the stage Tuesday night, but her presence was felt for the remainder of the night. Before handing out a music award to songwriter-producer T Bone Burnett, actor Sean Penn quipped, "Think anything's going to make YouTube tonight?"