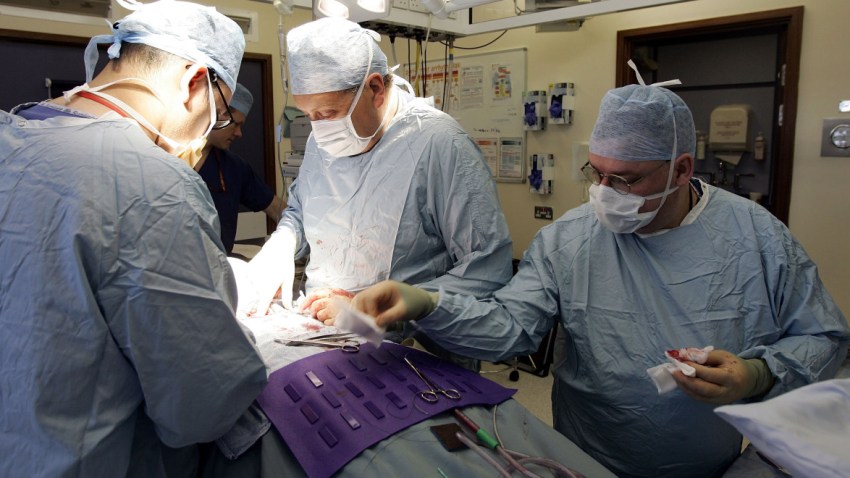 Every year when NCAA Tournament time rolls around, there are articles outlining just how unproductive offices across America become when the games are being contested. It would stand to reason, then, that if you offered people an alternative to working during the games, they'd probably take it. Urologists across America are putting that theory to the test.
It's the second year that the Oregon Urology Institute is running a promotion linking the cutting of reproductive systems to the cutting down of nets. Darren Rovell of CNBC (via The Dagger) reports on their program.
Since a vasectomy requires a few days of rest, the people at ORI reasoned what better time to get vasectomy than March Madness, when you have a good excuse to sit on the couch? ... The office has 24 prime slots to get the surgery during the first couple days of the tournament. Anyone who gets the surgery, which costs around $1,000 if you're paying out of pocket, gets to take home a kit that consists of an ice chest and frozen peas.
They report a 10 percent jump in business during last year's tourney. That success obviously made some waves in the urology scene, because the Urology Team of Austin, Texas is also gearing up for the big dance. They're holding "Vas Madness" and if you're looking for a team of doctors to get a March Madness-inspired vasectomy, you could hardly do better.
You could celebrate your surgery by chanting "Rock Chalk Jayhawk" with Dr. Bryan Kansas, or share a giggle with friends when you tell them that Dr. Stephen Hardeman fixed your junk. And if you opt for Dr. Richard Chopp (seriously, check the practice's website), you couldn't pick a more aptly named practicioner in a million years.
The Austin gang promises that the games will be on in the lobby during the games, which they further promise will be less crowded than a sports bar. That's surely true, but you're probably more likely to chat about North Carolina's chances with the guy on the bar stool to your right than a guy holding a bag of frozen peas to his crotch.
All in all, it seems like a pretty big step to take just to get a couple of days off work. Given the way the economy's looking, there's probably a pretty good chance you'll be on the chopping block, figurative this time, soon enough. When they're making that decision wouldn't you rather have had two days of fairly unproductive face time than be known as the guy who chose unnecessary surgery so they could watch basketball?
Josh Alper is a writer living in New York City and is a contributor to FanHouse.com and ProFootballTalk.com in addition to his duties for NBCNewYork.com.
Copyright FREEL - NBC Local Media