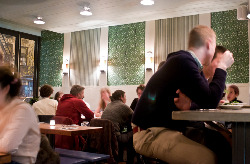 Out in Cleveland they're talking 70 wins and a championship for the Cavaliers.
Quick reminder I: Only one NBA team has ever won 70 games in a season, and the 1996-97 Chicago Bulls had a guy named Michael Jordan leading the way to a record 72 wins.
Quick reminder II: The Cavs are 0-for-44 in their all-time quest for an NBA championship.
But it's easy to see why expectations are through the Quickens Loan Arena roof, just off the shores of Lake Erie: On Thursday night, LeBron James will put on a Cleveland uniform in a regular-season game for the first time since 2009-10.
"This is my first home game,'' he says in a new Sprite commercial, trumpeting his return to his hometown team.
The ad shows him getting a hero's welcome as he walks into Akron's Patterson Park, where he played as a youth. It's as if he never left Cleveland back in July, 2010, to take "my talents to South Beach.'' That night he became Public Enemy No. 1, with his once-adoring fans burning his wine-and gold No. 23 jersey and the Cavs' owner, Dan Gilbert, emasculating the franchise's all-time greatest player in a venomous email seen 'round the world.
Now he's back and the NBA has never seen a homecoming like this one.
The Cavs open the season Thursday at the New York Knicks at 8 p.m. He returns with a new baby in tow, having welcomed daughter Zhuri Nova with his wife last week. James also has two sons.
"They all hated him for leaving, but now it's a great story because he's the hero again,'' NBA legend Shaquille O'Neal said on Monday. "Villain one day, hero the next. Now all is forgiven. That just shows you how fickle fans can be.''
O'Neal, who played two seasons in Cleveland with James, had an idea that James would be headed back home. It's not just that LeBron always had it in the back of his mind to return to where he first became a legend, playing for St. Vincent-St. Mary High School. Shaq also saw some basketball logic in James' decision to leave Miami Heat as a free agent, even after leading the Heat to two titles, in 2012 and 2013, and helping the Heat become only the third franchise in league history to go to four straight Finals.
"When a guy goes to four straight Finals, like LeBron did, you figure everything is good and he'll be staying,'' O'Neal said. "But what nobody is talking about is what happened to the Heat.''
In last June's Finals the Heat's vaunted "Big Three'' was reduced to James trying to go one-on-five and getting obliterated in five games by the San Antonio Spurs. With one-time Finals MVP Dwyane Wade looking calcified, and their top big man Chris Bosh largely ineffective, James found himself trying to outduel the Spurs by himself.
Turns out, he had every reason to head back to Northeast Ohio. But first, he had to hear a very big "I'm sorry'' from Gilbert, the long-time meddling owner. The two met in secret in Florida before he decided to make the move. Gilbert apologized and James proved to be one forgiving soul.
"You hash it out and move on,'' the four-time MVP said.
James signed a two-year deal for $42.1 million, with an option to rework his contract next summer. What he went back to was a far cry from what the Cavs have now, as they prepare to take the court for their season-opener against the New York Knicks.
"I didn't envision our team being like this right off the bat," James said during pre-season. "I felt like me coming, we could hopefully add some pieces. Obviously it happened quicker than I thought."
The Cavs have the makings of a championship contender. Kyrie Irving, who was once intent on returning home to the New York area to play for his beloved Knicks, opted to stay when the Cavs gave him the $90 million maximum salary, just before James announced his return. Then the Cavs used their third No. 1 overall pick in the draft in the last four years, Kansas prodigy Andrew Wiggins, and traded him to Minnesota for the Timberwolves' disgruntled All-Star power forward, Kevin Love.
Irving and Love have zero playoff appearances between them and have never had to perform under such lofty expectations, which is probably the reason James refuses to call his new set-up "the Big Three.'' But they're bound to benefit from playing with James, who will be seeking his sixth trip to the Finals since 2007 and his third ring. With the King back on his throne, the Cavs had an easy time adding the necessary fill-in pieces for a strong supporting cast. Players with championship pedigree like Shawn Marion, Mike Miller and James Jones ran to play with James. They might be shaky defensively, lacking a big man to protect the rim, but the Cavs should be an offensive juggernaut.
"I don't see anybody in the East giving them problems,'' O'Neal said. "Chicago needs to find another scorer to help Derrick Rose. He can't do it by himself and he's undersized. The only concern I have about Cleveland is their coach.''
A veteran of coaching in Russia and Israel, David Blatt, a former Princeton player under legendary coach Pete Carril, has never coached a second in the NBA, not even as an assistant. But he now has the best player on the planet, who still doesn't turn 30 until December, meaning this is a learning curve that should be relatively easy to negotiate.
Of course, there hasn't been a champion in Cleveland since the Browns in 1964.
"For LeBron, winning one championship in Cleveland will be the equivalent of winning five titles in Miami,'' said O'Neal's TNT teammate, Charles Barkley. "Even if he doesn't win it this season, you just have to love the fact that LeBron went back home. That's what I was rooting for and what a lot of people were rooting for.''
Nowhere more than out in LeBron's old stomping grounds. He might not win 70 games this season, but no one will be surprised if sometime in June he's out in front, leading a championship parade.
Longtime New York columnist Mitch Lawrence continues to write about pro basketball, as he's done for the last 21 years. His columns for NBCNewYork.com on the Knicks, Brooklyn Nets and the NBA, along with other major sports, will appear twice weekly. Follow him on Twitter @Mitch _ Lawrence.