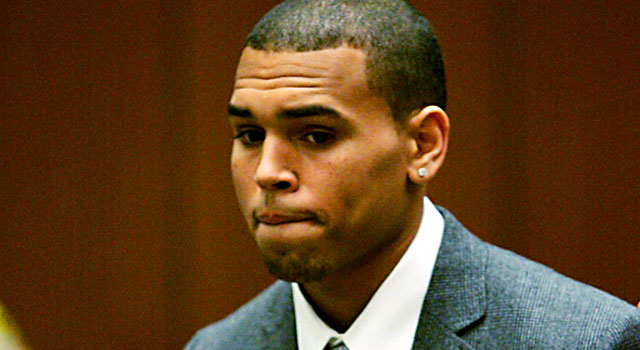 Chris Brown appeared in a Los Angeles court Thursday to face felony charges of assaulting his girlfriend Rihanna, but the proceedings took an anticlimatic turn as lawyers agreed to delay the case.
Brown, dressed in a downright matrimonial gray three-piece suit, did not have to enter a plea as his lawyer Mark Geragos was granted a continuace until April 6.
In his first bonafide public appearance since the alleged attack a month ago, Brown did not speak much, answering "Yes," "Yes," and "Yes, ma'am" to the judge as she asked if he understood his legal rights.
Rihanna's lawyer, Los Angeles crimnal attorney Donald Etra, was also present and agreed to the time waiver
At one awkward moment, when Geragos approached the bench, Etra whispered to Brown, "How are you doing" and shook the singer's hand.
At the end of the proceedings the judge reminded Brown not "annoy, harass, molest, threaten or use force or violence against anyone."
When she asked if there was any "No Contact" order, Etra said "Ms. Fenty does not request that type of order."
After the proceedings, the courtroom microphones picked up pieces of Brown's discussion with his attorney.
"I'm just a little confused on the terms," Brown said.
Los Angeles County prosecutors had Brown with two felonies earlier Thursday, including assault and making criminal threats.
Brown was arrested last month after he allegedly beat up his girlfriend, pop star Rihanna, in Hancock Park following a pre-Grammy Awards party.
In the case handled by the District Attorney's Family Violence Division, Brown, 19 was charged with one count each of "assault with force likely to produce great bodily injury" and "making criminal threats."
In a statement from the DA's office, the victim is identified as Robyn F. Rihanna's full name is Robyn Rihanna Fenty.
Brown had been free on $50,000 bail since his arrest.
After the charges came down, Rihanna's dad, Ronald Fenty, told UsMagazine.com that "Justice can never be served."
"He can't feel the pain she felt," said Fenty.
The Smoking Gun website obtained a copy of the search warrant and affidavit for Chris Brown's case which has some startling details.
According to the TSG documents, Brown tried to push Rihana out of his rented Lamborghini and caused her her to hit her head against the window. He then allegedly punched her and threatened, "I'm going to beat the sh-t out of you when we get home! You wait and see!"
Rihanna, 21, has reportedly forgiven Brown, and supermarket tabloids have the two recently getting engaged, but the alleged violence against Rihanna was part of an escalating pattern of brutality, according to TMZ.
When Los Angeles police interviewed Rihanna after the Feb. 8 attack, she allegedly told them that Brown had hit her before and that those incidents were growing "more violent" each time, TMZ reported.
Rihanna's father felt "numb" after hearing all of the reports, and said his family had a hard time contacting her.
"I don't know what to say, honest to God," Fenty told UsMagazine. "I've been hearing so many stories. I don't feel any pain anymore. I've gone numb. I've heard so much. But I can't get on to her. Her mother can't get on to her, her brother told me she changed her email. Somebody has a stranglehold on her. I'm lost."