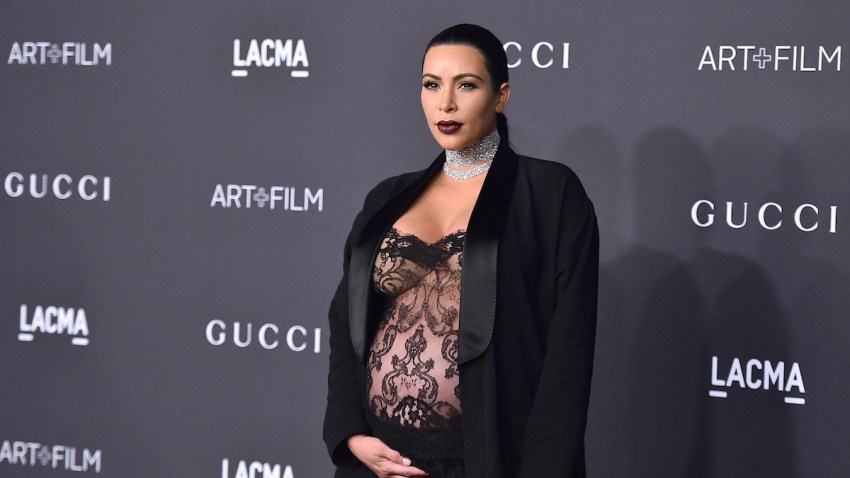 Kim Kardashian has revealed her current pregnancy weight.
The E! star is nearing her due date (Christmas Day), and shared the number she saw on the scale with six weeks left of her pregnancy. Taking to Twitter, the soon-to-be mother of two wrote, "Ok I'm 52 lbs up today....and I still have 6 weeks to go! I got my work cut out for me!!!!"
Kardashian received criticism over her weight gain from her first pregnancy with North West, and the headlines took a toll on her, as she recently recalled in C Magazine's 10th anniversary issue.
PHOTOS: Kim Kardashian's pregnancy style
"It was the worst," she admitted. "I couldn't help it, and everyone would say, 'She can't stop eating.' I delivered at 180, and they were like, 'She's 210 pounds. She's getting dumped because she's too fat' and all these ridiculous stories."
"It really took a toll after the fact, when I was losing weight," adds the 33-year-old "Keeping Up With the Kardashians" star.
"I gained 50 pounds, and it's tough to get it off. I was dedicated, but also, it changed the way I viewed wanting my picture taken. Before I was always smiling, and so into being out and about. After I had the baby, I was like, these are the same people that made fun of me, and posted the stories that were so awful, calling me fat for something I couldn't control. I don't want to smile for them. I don't want to be out."
"Even if I was more confident, I just didn't feel like being that girl who was going to be smiling for every photo," she tells C Magazine. "It changed my mood; it changed who I was; it changed my personality a lot."
The pregnant star put her baby bump on full display last Saturday when she attended LACMA's 2015 Art+Film Gala wearing a cleavage-baring, semi-sheer, black lace Givenchy spring 2016 Ready-to-Wear slip and matching pants, paired with a black trench tuxedo jacket and black sandals.
Watch the season 11 premiere of "Keeping Up With the Kardashians" on Sunday, Nov. 15 at 9/8c only on E!
(E! and NBC are part of the NBCUniversal family.)
PHOTOS: 35 Naked Kim Kardashian photos
Copyright E! Online