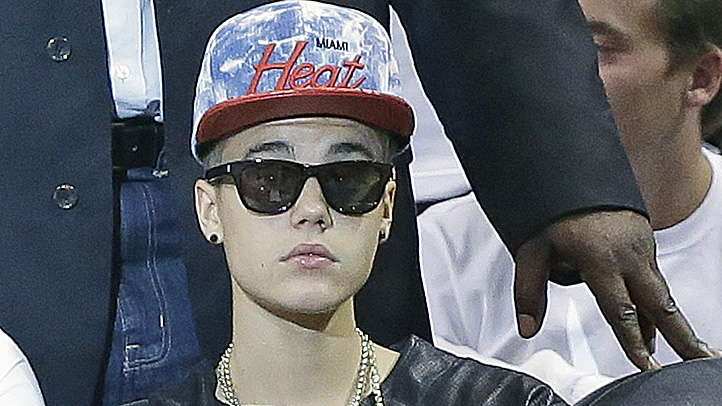 Justin Bieber spent some quality time with the Stanley Cup on Tuesday, but even that moment didn't pass without a bit of controversy for the embattled pop star.

Bieber was in Chicago to perform at the United Center Tuesday night, and was invited to the Blackhawks locker room to pose with the trophy.

Hawks marketing executive Peter Hassen tweeted a picture of "The Biebs" -- who is Canadian and a huge hockey fan -- posing with the Cup in front of a Blackhawks jersey with his name on the back.
The Biebs meets THE CUP!!! pic.twitter.com/oh4AvDbYbT — Peter Hassen (@PJHASSEN) July 10, 2013
The photo provoked immediate outrage among many Hawks fans on social media, upset that Bieber was allowed to hang with Lord Stanley.
Justin Bieber has touched Lord's Stanley Cup. Retweet if you cried ;( — The Hockey Gods (@HockeyGods) July 10, 2013
Some Blackhawks fans are upset because Bieber was dressed too casually and wearing shades while in the prescence of the Stanley Cup, others are simply not fans.
@NHLBlackhawks let bieber hold the Stanley cup. Congrats on disgracing the most famous trophy in the world to sell a few tickets #scumbags — Jeremy Pepin (@pepperpepin) July 10, 2013

But Bieber is also taking flack for jumping on the Hawks bandwagon, because he was seen wearing a Boston Bruins hat before the Stanley Cup playoffs, and for standing on the Blackhawks Indian Head in the locker room, a definite superstitious no-no among the players.
@Bollig87 Go kick Bieber's ass... #disrespect pic.twitter.com/9k1ggK6wDX — Tim Kaufmann (@tkaufmann_26) July 10, 2013
Obviously, Blackhawks fans are protective of their Cup, but Bieber is a 19-year-old millioniare who's protective of his fans in whatever city they may be in. He's a self-proclaimed Toronto Maple Leafs fan, but has been seen wearing the gear of every other team imaginable, including the Bruins and Blackhawks.
After all, fans in those cities pay good money too.
The flap over Bieber's proximity to the Cup preceeded another controversy that surfaced Wednesday morning.
A new video, posted on the celebrity website TMZ shows the 19-year-old in what looks like the kitchen area of a New York restaurant where he apparently urinated in a mop bucket.
The clip, which the site claims was taken earlier this year, appears to be shot by one of Bieber's friends as they laugh about his behavior. The clip shows the group joking that the restaurant should be honored that Bieber has chosen to urinate at their establishment.
As Bieber exits the restaurant he appears to grab a bottle of cleaning fluid and spray a framed image of President Bill Clinton.
"F*** Bill Clinton!" the teen sensation can be heard shouting before he and his friends reenter the public area of the establishment.