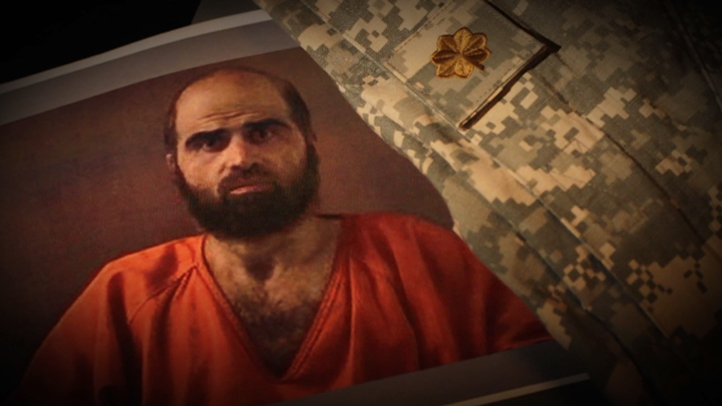 Jury selection is set to start Tuesday in the long-awaited murder trial of the Army psychiatrist accused of opening fire with a semi-automatic gun at Fort Hood nearly four years ago, although some survivors hope no last-minute problems delay the case again.
Several soldiers who survived the mass shooting say waiting to testify in Maj. Nidal Hasan's court-martial has caused them to miss family reunions, vacations and other events.
"I'll believe it when it happens, because there's been so many delays," said Retired Staff Sgt. Shawn Manning, who was shot six times during the Nov. 5, 2009, rampage inside a medical building. "We've been given a window (of when to testify) on and off since 2010."
U.S. & World
Hasan, 42, faces execution or life without parole if convicted in the rampage that left 13 dead and nearly three dozen wounded on the Texas Army post.
Jury selection will begin Tuesday afternoon following a morning hearing in which the judge, Col. Tara Osborn, is expected to finalize routine matters. Last week she rejected Hasan's latest delay request and sternly restated that proceedings will start Tuesday.
The pool of nearly 150 officers will come from Army posts nationwide, including Fort Hood. All won't be brought in initially, because only six will be questioned each day, the judge has said. Potential jurors, who must be of Hasan's rank or higher, have already filled out a questionnaire prepared by prosecutors and the defense.
Hasan, who is serving as his own attorney but can get help from his former defense attorneys, will have a jury consultant on hand. Jury selection is expected to last at least a month, and once testimony starts in August, that could take at least two months.
Death-penalty cases in the military require at least 12 jury members, more than in other cases. And unlike other trials, their verdict must be unanimous in finding guilt or assessing a sentence.
Potential jurors will arrive to a military courthouse that has been transformed into a fortress. The building on the edge of the Texas Army post is surrounded by hundreds of stacked freight car-size shipping containers, and by tall dirt- and sand-filled barriers designed to protect it against the impact of a bomb blast. Armed soldiers stand guard around the building.
Although Fort Hood's security plans are sealed by the military judge's orders, the increased measures are evident. In the courthouse, everyone passes through a metal detector -- which was not there before Hasan's case. In addition to news reporters and those involved in the case, only victims' relatives are allowed in the small courtroom. No other spectators are allowed.
The tight security measures at Fort Hood appear to be the most extreme for any court-martial on a U.S. Army post. Just two years after a bomb attack was thwarted in the neighboring city of Killeen, some military law experts say, the community once again could be targeted by supporters of Hasan, an American-born Muslim who has tried to justify the deadly rampage as protecting Taliban leaders in Afghanistan.
"He's admitted he's on the side of terrorists ... so this area is now a high threat level for jihadists," said Jeff Addicott, director of the Center for Terrorism Law at St. Mary's University School of Law in San Antonio. He is not involved in Hasan's case.
In Killeen, law enforcement officials won't discuss security specifics. But businesses are receiving "If you see something, say something" posters. They feature the picture of a gun store employee who helped avert a deadly attack in 2011 when he alerted authorities of a suspicious customer who turned out to be an AWOL soldier from Fort Campbell, Ky.
Pfc. Naser Jason Abdo was arrested at a Killeen motel where authorities found pressure cookers and other bomb-making components, a loaded gun, 143 rounds of ammunition, a stun gun and al-Qaida magazine article on how to make an explosive device. Abdo, who became a Muslim at 17, said he planned to blow up a restaurant full of Fort Hood troops -- his religious mission to get "justice" for the people of Iraq and Afghanistan. Abdo was sentenced last year to life in federal prison.
As Hasan's trial approaches, some in Killeen are concerned. Guns Galore store manager Cathy Cheadle -- whose sales representative Greg Ebert appears in the poster by the question: "He said something; would you?" -- said she hopes the community remains on high alert.
"If one tried it and didn't succeed, I think everybody wants to be in the news and ... somebody else would think, `I want to succeed,"' in an attack, Cheadle said. "I think people should be that alert anyway. As a test, how many people would walk by a backpack and not say anything?"

Copyright AP - Associated Press