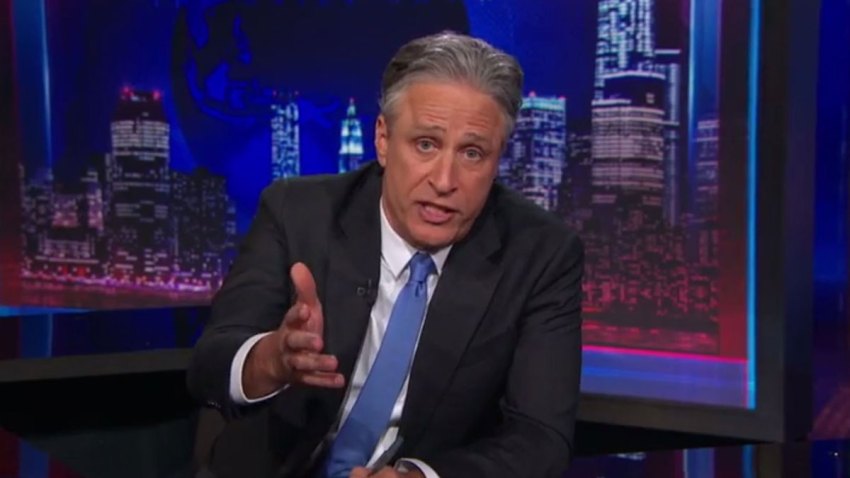 Jon Stewart's "Daily Show" departure is getting real.
The legendary host's last episode is next week and the tributes are already starting to roll in. Some are poignant, some are funny, and some are just straight-up trippy. Take this time-lapse video for example. YouTuber and longtime "Daily Show" fan Billy Chasen decided to edit a whopping 16 years of Stewart's hosting gigs into just two minutes.
The result is a hilarious look back at all of the outrageous political stories that the show has covered, and also a great way to watch Jon age in record time. It's actually uncanny to see an almost boyish Stewart reading the news.
CLICK: Jon Stewart forgoes jokes on "The Daily Show"
"TDS" fans will also appreciate the nostalgia factor in rehashing all of the show's biting and sarcastic headline graphics. Not only is it a reminder of all the messed up stuff that went down in politics over the last 16 years, but you get to laugh at some really great puns too.
Some of our favorites from the video include "Free at Lust," "Loose Buchanon," "Hose Job," "Hey France Germany and Russia: Suck It," "deLay Misrable," and of course "Chiseldicks: The story of Mount Rushmore."
And tribute must also be paid to the video's second star: George W. Bush. With 43 holding court for a whopping eight years of Stewart's reign, he provided the host with a whole lot of monologue material. An honorable mention goes to Dick Cheney, of course.
Jon Stewart's final "Daily Show" appearance will be Thursday, August 6.
Copyright E! Online