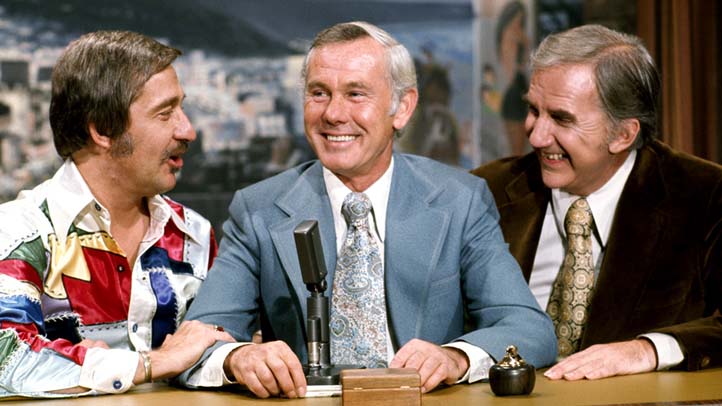 Even 20 years after Johnny Carson signed off from "The Tonight Show" once and for all, the patina of his singular reign over the late night television landscape hasn't lost its luster for those who were there.

"I want to go on record as saying that I had the best job in the business ever, being Johnny Carson's bandleader, and there was never a day that I didn't know that," Doc Sevrinson tells PopcornBiz. "Johnny was a master at making personalities fit and putting a family together – he was the key to that. All I had to do was show up."

Indeed, as long as Carson himself showed up – which he did for three decades, hosting NBC's late night talk show from 1962 to 1992 – so did the audience, in droves: no television personality before or since has ruled a time slot or a programming genre as fully as the late night host. And few had his level of audience trust and national influence over the political and pop cultural attitudes of the day, and those who watched, often from their beds, felt they were on uniquely intimate terms with him.

But as "Johnny Carson: King of Late Night" – PBS's latest entry into its prestigious "American Masters" series, airing May 14 – reveals, that intimacy may be the greatest illusion pulled off by the man who started out as a magic-obsessed young boy practicing card tricks in his native Nebraska. Knowing Johnny Carson – the real Johnny Carson – was not an easy feat.

Peter Jones, the Emmy-winning writer-director-producer behind the documentary, recalls the first time he spotted Carson in the flesh: Jones was a 16-year-old who'd occasionally been allowed to stay up late to see Carson ring in the new year on TV when, fatefully, he encountered the host on Dec. 31, 1972. "The year he moved ['The Tonight Show' from New York] to Los Angeles, there was a private New Year's Eve party at the home of a socialite named Betsy Bloomingdale, and Johnny Carson was at the party and standing in a corner by himself, not engaging with anyone," remembers Jones. "That stood out to me, because I thought 'My gosh – there's Johnny Carson, and he's all alone.'"

Alone, Jones would later discover, was something that Carson did extremely well. The host, who died in 2005 at age 79, may have been comfortable in front of millions on television, but as his sidekick Ed McMahon used to famously note, he was not so great with smaller groups. Unlike many celebrities of his magnitude, Carson was comfortable not being the center of attention, he would later gracefully rebuff Jones' years-long attempt to persuade him to participate in a retrospective on Carson's life and career.

"After 12 years of writing him, in 2002 he finally actually called me, and I thought it was a joke," says Jones. "He said, "Peter, it's Johnny Carson. I want to tell you, you write a damn fine letter, but I'm not going to participate in anything on my life because, you know what? I don't give a s**t." He said "One day something may get done, and you're probably the guy to do it, but it will never happen while I'm alive. I've done everything I've wanted to do. I've said anything I want to say. There is nothing more."

But Jones would learn that there was much more to learn about Carson when he was finally able to move forward years later. The documentary, he says, "will be like a dramatic feature film, which is what I intended it to be: a two-hour film that takes you on a real journey, an exploration of who this guy was – the most famous person in America, arguably, was Johnny Carson and was John William Carson underneath that image."

Carson was an ideal subject for public television's "American Masters" series, says creator and executive producer Susan Lacy. "We do films on people who have changed or affected in major ways our cultural landscape," she tells PopcornBiz. "We've done a lot of TV people: Edward R. Murrow, Rod Serling, Lucille Ball, Carol Burnett, Jack Paar. Johnny Carson was a natural and I've wanted to do it for quite a long time." The trick, all involved would discover, was getting access to the wealth of "Tonight Show" footage that would be essential to depicting Carson's unique talents and charm. But control of the footage was in the hands of Carson's estate since his death, and his wish to remain uncelebrated was well known.

"Johnny famously negotiated a deal with NBC in 1979/1980 for his contract and that included ownership of all 'Tonight Shows' retroactively going back to 1962, and that he would become the producer and owner of all future 'Tonight Shows,'" explains Jones. "So the only way that any kind of film would get done would mean that you'd have to get the cooperation of Johnny Carson, which he was not going to do in his lifetime." After Carson's passing, however, it grew increasingly apparent that even in the years when imbroglios involving Jay Leno, David Letterman, Conan O'Brien and other hosts could dominate the water cooler-turned-internet conversation, a generation was coming of age with little awareness of the man who refined and ultimately defined the late night format.

"I would say that the shift was his nephew, a gentleman named Jeff Sotzing," says Jones. "I finally convinced him that even Johnny Carson would be forgotten if something were not done on his life as well as his career…I finally convinced Jeff that we would do a fair and balanced job, and that I think the American public – who adores Johnny Carson – would come away feeling even more strongly about how much they like him, even though it's not all flattering and there were things that Johnny himself really regretted in his life and was, frankly, ashamed of. But I think at the end of the day people can identify with someone who's not perfect and has flaws just like the rest of us."

Once the "Tonight Show" footage was made available, communicating Carson's engaging gifts remained challenging. "Even though we had access to all the material, it turns out that it's quite a difficult show to excerpt because Johnny really did let his guests shine," says Lacy. "His bit came in at the end with the zinger or the reaction shot, and so a lot of those stories that the guests were telling went on quite a long time before you got to the part where Johnny engaged in it. And the whole monologue thing was very difficult because we wanted to give the sense of how the monologues reflected what was going on at the time – but so much of the references were things that were so timely that most people wouldn't know what they were about, which is why we stuck with presidents…We wanted to get across the notion that he had the hugest audience. He kept it forever, and people watched to see what was going on in the world and what Johnny thought about it – and how they were supposed to think about it."

The film features a wealth of new interviews with an enviable assembly of Carson's colleagues, confidants, competitors, successors and steady couch-surfers: Sevrinson, Letterman, Leno, O'Brien, Arsenio Hall, Joan Rivers, Jerry Seinfeld, Mel Brooks, Garry Shandling, Ellen Degeneres, Steve Martin, Dick Cavett, David Steinberg, Carl Reiner, Don Rickles, Bob Newhart, Angie Dickinson, Drew Carey and Jimmy Fallon among them.

"Because it was Johnny Carson and because of the love and admiration and gratitude most of these people felt to him for giving them basically a showcase for their talents, they virtually all said yes – with the exception of Bill Cosby and Woody Allen," reveals Jones. "Of course they needed to know that the Carson family was onboard with the project or they wouldn't have spoken to me, because they knew Johnny would not have wanted them to come forward. But if the family did say, 'Please talk to Peter,' that held a lot of sway in their decision to talk to me."

"As a comedian it was the place to be," recalls comedian David Steinberg (now an acclaimed television director of shows like "Curb Your Enthusiasm") of the "Tonight Show's" glory years, when he was a frequent guest and substitute host. "If Johnny laughed at what you were doing, in those days you had a career the next day. So there's no comedian who didn't want to be there. I wanted to sit down because I felt that stand-up was a little limiting, but I couldn't talk him into that for a long time. Once I did, then we were aware. I hosted a lot and it just taught me how to listen, and taught me how to be a better guest."

Drew Carey experienced the overnight success factor of a successful Carson appearance during his 1991 debut appearance, which he calls "the best seven minutes of my life." When Carson was impressed enough by Carey's stand-up to call him over after his set – a rare and much-coveted opportunity to be anointed by the late night king – the impact on the young comic's career was both profound and immediate.

"It was like flipping a switch," says Carey. "It was literally the next day. I did it on a Friday, and over the weekend my management office got deluged with calls. And on Monday, I remember talking to the secretary in the office and she was jokingly complaining – but it wasn't really a joke – that all she was doing was passing out packets for me. Every single call was about me. Everybody wanted to get a tape and a bio pack, or whatever they send out."

"At The Improv on Melrose, all they did was showcase us for agencies," recalls Carey of spending five days out of the week performing in the wake of Carson's blessing. "I had 23 William Morris agents show up at one of them, and then they kept me in the upstairs part of The Improv for an hour. [Improv owner] Bud Freedman actually sent me over champagne after that because he said he'd never seen anything like that. There wasn't an agent coming out to see me – It was like the heads of the agencies. It was crazy, and I remember one of the comics joking with me and saying, 'What does it feel like to be the flavor of the month?' I said, 'Take a lick, man.'"

Letterman was a crucial get, owning to his close professional relationship with Carson, who the "Late Show" host fervently reveres. "That was the most remarkable thing, because we interviewed him in the Ed Sullivan Theater after he had done one of his shows," recalls Jones. "The moment that he sat down, he was looking at my shoes, talking and answering the first question and his director came up to him, and said, 'Dave, it would be a much better presentation if you actually looked at Peter.' Here you have a guy who's seen by millions every night looking directly into the camera when he speaks, and for us, it was difficult in the beginning for Dave to feel comfortable enough to actually connect with me in conversation. Once he did, he was so candid about what Johnny Carson meant to him and how Johnny Carson really shaped who he became as a performer and as a man."

Another major coup was the interview with comedienne Joan Rivers, who was groomed by Carson to become one of the "Tonight Show's" most popular guest hosts until their falling out in 1986 when Carson discovered that Rivers had inked a deal with the then-fledgling FOX network to host her own late night show. Carson had always been supportive of guests-turned-competitors, but because Rivers failed to inform him of her plans herself, he never spoke to her again. "I think she felt that she could say a couple of things that she's never said before," says Jones. "The biggest by far is to publicly say that maybe when she thinks about it she should've told him sooner about her show on FOX. She never did that at the time and hasn't done that since, until now."

Unraveling the knots of Carson's personal life proved far trickier, especially when it came to getting Carson's three ex-spouses and his widow on the record: only one – second wife Joanne Carson, appears on camera. "I met with Joanna Carson – wife number three," says Jones. "I spent a whole afternoon with her, at which time I felt certain that we would do an on-camera interview, and she was at the time very open and candid and was looking forward to doing an interview. She wound up, for reasons that I just don't know, not doing the on camera interview. The fourth wife – the widow, Alex Carson – didn't talk to me. She wrote to me when we began the project that she was sorry we were actually moving forward, because she knew that's not what John – that's what she called him – would've wanted. But then two years into it, when she obviously heard about who was talking and that we were really doing a really exhaustive portrait here, she invited me over and I spent a long afternoon with her where she gave me a lot of insights. Again though, she would not agree to go on camera with it – and in fact made sure that I guaranteed to her that things that she told me would remain off the record. That's how protective people are of Johnny Carson."

"I think that most people don't quite know his story," says author and journalist Bill Zehme, who wrote the last profile on Carson done with his permission for Esquire in 2002 and is currently at work on a definitive biography. "The genesis of what makes a man who he is, is his boyhood and how he was shaped. I think there are an awful lot of clues there. Will there be surprises? I've spent some six years on this man's life and he's a very complicated man. He was a dichotomous man, with conflicting truths – and all of them true. He's a flawed human being and he wouldn't have been great if he didn't have those flaws. That's what we have to remember."

Zehme says that like his forthcoming book, "American Masters" sheds light on Carson's troubled relationship with his seemingly disapproving mother, Ruth. "What's really interesting is what a tough relationship he and his mom had, at least as he experienced it," says the author. "She was very, very proud of him, but didn't ever quite articulate it, and that truly did inform him. He strove his entire life to get her recognition and he adored her. It's a very conflicting relationship, but I think you're going to see that played out here a bit – but I'll take it about 19 more layers deep in the book."

"Parts of himself, he kept them away from himself, I think," adds Jones. "It's such a paradox. I guess you could say that he was hiding in plain sight. You felt like this was a very accessible, Midwestern, very smart and funny man, but who was he at his core. I think that something for even him that was a bit of a mystery because I think he was so uncomfortable relating to people. Though he did a brilliant job of it on his show, in his personal life it was very difficult. I think it goes back to his relationship with his mother, where he kept so much to himself, playing solitaire or the drums, that ultimately he was unknowable in certain ways, even to himself."

Compounding matters were Carson's difficulties with alcohol, which caused him trouble throughout his adult life. "It was something that in talking to three out of the four wives that clearly emerged as an issue. He did not drink every day, but when he did drink – and he says to this Mike Wallace in the clip that we have – he would change. His personality would go very dark. He had a dark side where he could be verbally abusive and he would often write letters of apology after one of these episodes because he did feel contrite and bad about his behavior when he had been drinking…I knew from my discussions with people very close to him that his drinking would emerge from time to time in a negative way, where he would change personalities."

Actress Angie Dickinson was a frequent guest who also socialized – and occasionally dated – Carson. "We know that he had a drinking problem," she tells PopcornBiz. "People who are ex-alcoholics have a lot of – I don't want to say demons, but the reason that they behave the way that they do is because they're in recovery. 'Don't take me to too nice a place – I'll eat too much. Take me to a nice bar and I'll drink too much.' You're constantly, I think, resisting temptation as an alcoholic – I drink too much, so I can say that – so you steer away from danger, and I think that he did that all his life."

Carson also experienced a shifting dynamic with his longtime announcer McMahon – before the "Tonight Show" they'd worked together in New York and were frequently out on the town together, but their relationship later cooled. "One of the interviewees says that it was kind of a love-hate relationship," says Jones. "Johnny first met Ed on the game show 'Who Do You Trust' where Ed was the announcer. Back then they were essentially drinking buddies who went out drinking all the time. It was Ed that would take care of Johnny when he had one too many drinks…But as things evolved – and I think that Ed McMahon's daughter Claudia says this in the film – Johnny outgrew Ed and cultivated a whole different crowd of friends."

Frequently Carson's crowd was an unlikely all-star assemblage of friends who gathered together at Steve Martin's Beverly Hills home to play poker; the group typically included Martin, Chevy Chase, Carl Reiner, Eugene Levy, Columbia Pictures executive David Chasman and a rotating cast of supporting players.

"The poker games were like once a month for many, many, many years," remembers Reiner. "Steve Martin had a gourmet dinner and it was the only time that Carson ever let his hair down. He was one of the guys. It's the only time that he was not circumscribed by the audience being around him. He told jokes, he laughed. The interesting thing, and what I loved about him, is that he was a very rich man, but he played poker like you're supposed to play poker. He didn't just throw money at bad hands. Mainly it was for laughs. We had a lot of laughs. I miss those poker games more than anything, and I'll never forget the last one. He wasn't feeling well, and he bowed out of one and that was very soon before he passed away. Those poker gamers were very important to him."

"Johnny just sort of mumbled a lot, folded a lot, but was funny as hell," Chase told PopcornBiz in 2011. "We were all just having a fun night. It was good for Johnny, because he would get off at 6:30 or 7, after his show. It was a great night for him to just relax with friends and have fun. Much of the time we were doing it for him, in a sense…he was working harder than any of us most of the time. It was a lot of fun when Johnny was alive."

Steinberg says that those few who got close to Carson understood the pressures he dealt with as one of the most famous people on the planet in his heyday. "To do that show, it's so emotionally debilitating. Remember, just 90 minutes at the start, even an hour and to really listen so deeply which you had to do and then think of being witty and everything, there's nothing left after the show. I just remember from hosting it myself – I was younger than him and I was exhausted."

Craig Ferguson, who hosts CBS's "The Late, Late Show," says that everyone who has taken on a late night talk show post-Carson walks in the host's very deep footprints. "I think that to a large extent he created the genre. I think that although he wasn't the original architect of what these things are, he defines excellence. He might not have invented golf, but he was Tiger Woods…And because I work with Peter [Lassaly] who worked so much with Johnny for 30 years, the class that Johnny had and the understanding and the warmth and the casual approach to broadcasting that Johnny projected, Peter was able to help me with that and allows me to go in whatever direction I want to be in."

"My opinion of Johnny is that I wish that I'd met him," adds Ferguson. "I think we would've gotten on very well, and so does everyone who knows us both. That makes me a little sad because I surely would've met him. He died when I was three weeks into the job. Had I been in another three weeks I'm sure that I would've been over there, because Peter was like, 'I have to get you guys together.'"

Sevrinson chooses to sum up his boss and friend simply. "One word: class," he says. "He showed his class when no one was there to report on it... He did wonderful things for a lot of little people that no one ever knew about and they don't know to this day. He was a small-town guy in a big town who outgrew both towns. But he never forgot what it was like to be from the country. He was a country boy."

Fifty years after Carson made his "Tonight Show" debut, Jones says he believes no TV personality will likely ever hold sway in the way the King of Late Night did. "We will never have anyone like Johnny Carson again, just because of the nature of the media itself," he explains. "The television world is so fractured. To get a great audience on a late night show you're talking about maybe five million people. Johnny Carson and 'The Tonight Show' averaged anywhere from 12 to 15 million people every night, so his influence over that large a part of the American viewing audience can never happen again just by the nature of television."

Yet even in Carson's prime, he achieved a remarkable dominance, as Sevrinson points out. "Johnny was so far above everyone else at that time slot that it was like he owned it," says the bandleader. "And it was a hell of a ride, I'll tell you that."

"American Masters - Johnny Carson: King of Late Night" debuts Monday, May 14 at 9 p.m. on PBS.