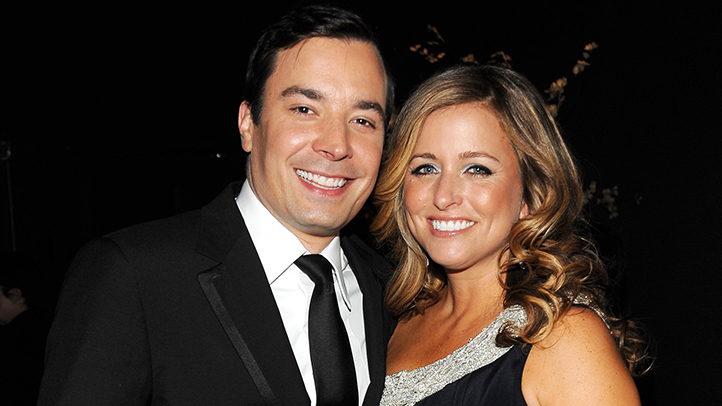 Jimmy Fallon had a later night than usual--in the maternity ward!
The "Late Night" host and wife Nancy Juvonen welcomed a baby girl early Tuesday morning, their first child together, People reports. (And in secondary news: Jimmy Fallon and his wife were expecting a baby.)
Somewhat hot on the heels of the royal birth (not to mention Fallon's jokes about it), their child arrived at 6:21 a.m. in New York and the new parents "are overjoyed about the arrival of their beautiful daughter."
The couple have not announced a name yet.
PHOTOS: First pics of the royal baby
Meanwhile, Fallon was on the air last night — which is reasonable, considering his 12:35 a.m. show actually tapes at around 5 p.m. — but NBC will be airing a repeat tonight.
The 38-year-old funnyman, who will take over as host of "The Tonight Show" next year, married Juvonen, 46, in December 2007 after meeting through mutual friend Drew Barrymore. She runs Flower Films with Juvonen and starred in "Fever Pitch" with Fallon.
And to think, Fallon was just making all those royal baby jokes without giving any indication that he was about to become a dad!
PHOTOS: Cutest pop star babies
"That's right, Kate Middleton went into labor this morning in London. When the rest of the royal family heard, they were like, 'Oh my God — what's "labor"?'" he quipped during Monday's monologue.
Preceding the happy personal news, Late Night With Jimmy Fallon recently scored its third Emmy nomination for Best Variety Series.
Congrats to Jimmy and Nancy!
(E! Online is a member of the NBCUniversal family.)
Copyright E! Online