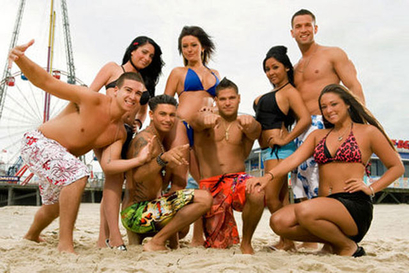 "The Situation" has gotten a little more complicated.
Just days before MTV was to round up Snooki, JWoww, Pauly D, Moe Black's brother Fat Andy (he's one of the crew, right?) and the rest and send them to Italy to film the upcoming fourth season of "Jersey Shore," the production has hit a snag.
According to reports, two things are holding up the overseas GTL: Contracts and Angry Italians.
RadarOnline is claiming that Nicole "Snooki" Polizzi, Jenni "JWoww" Farley, and Mike "The Situation" Sorrentino have not renewed their contracts, and are holding out for more money.
Further complicating matters are rumors that producers of the show are having a tough time securing filming locations because residents of Tuscany - which was to serve as the show's home base - are outraged by the "Jersey Shore's" depiction of Italians.
Columnist Roberto Del Bove described the cast members in the Rome newspaper "New Notzie" as embodying "the worst stereotypes of Italians, multiplied by thousands and Americanized."
The production was scheduled to depart on April 18th, but now MTV may have to push the date back to some time in May.
Selected Reading: RadarOnline, Entertainment Weekly, PopEater