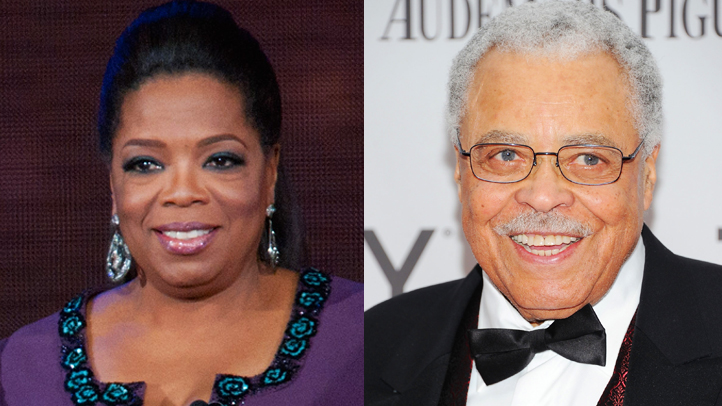 James Earl Jones had just finished a matinee performance of "Driving Miss Daisy" with Vanessa Redgrave in London when Sir Ben Kingsley stepped on stage – and presented him an honorary Oscar.
"I am deeply honored, mighty grateful and just plain gobsmacked," the iconic 80-year-old actor told the Academy of Motion Picture Arts and Sciences' Governors Awards Saturday night in his acceptance, which was filmed on the stage of London's Wyndham Theatre.
The third annual awards ceremony celebrated the careers of Jones – best known on screen for his legendary Darth Vader voice in "Star Wars" – and makeup artist Dick Smith, while Oprah Winfrey received the Jean Hersholt Humanitarian Award, The Hollywood Reporter said.
In London, Redgrave asked the "Miss Daisy" audience to stay in their seats for the presentation of the Oscar, which former Academy president Sid Ganis had brought with him across the pond, according to the Hollywood Reporter.
Later, in Hollywood, the program began with "Darth Vader" making his way to the podium. He took off his black helmet and turned out to be Tom Sherak, the current Academy president.
Acknowledging the main Oscar show's topsy-turvy week (goodbye Brett Ratner and Eddie Murphy, hello Billy Crystal and Brian Grazer), Sherak asked "How was your week?" to a round of laughter, the Hollywood Reporter said.
Smith, whom the BBC referred to as "the godfather of makeup," did pioneering work in "The Godfather" (1972) and "The Exorcist" (1973), and won an Oscar for "Amadeus" (1984).
Now 89, he apologized for not having a very good memory these days, but concluded, "I will never forget tonight from the bottom of my heart."
Winfrey was recognized for her philanthropic work with the Oprah Winfrey Foundation and elsewhere.
"I never imagined myself receiving an Oscar, certainly not for doing what I believe is a part of my calling, a part of my being," said the 57-year-old media personality.
Jones first appeared on the big screen in Stanley Kubrick's "Dr. Strangeglove" in 1964. He was nominated for an Oscar for Best Actor for his performance in "The Great White Hope" (1970), and his memorable movie roles include "Field of Dreams" (1989), "The Hunt for Red October" (1990), and "Cry, the Beloved Country" (1995). In his tribute Saturday, Alec Baldwin noted the range of roles Jones has played, saying, "I wanted James Earl Jones' career – that's what every actor wants."
Yet that career has mostly been spent on stage, as Jones highlighted in a recent interview with the Hollywood Reporter.
"I am primarily not a film actor – that's what's so ironic about [this honorary Oscar]!" he said. "I'm still a novice in film work."
Selected Reading: Hollywood Reporter's Q&A with Jones, BBC News