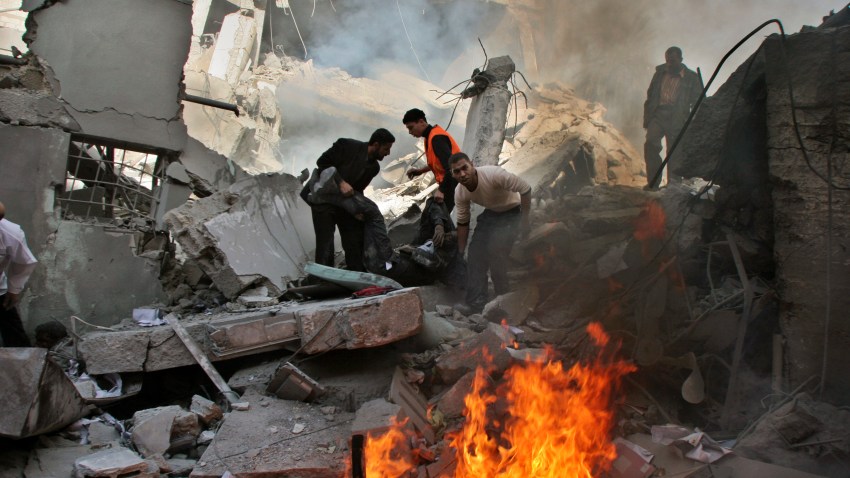 Israel's air strikes in Gaza end any faint hopes that President-elect Barack Obama will take office with a clear path toward Middle East peace laid out before him.

It may also strengthen the hand of more hawkish advisers who have argued that his first step toward Middle East peace should be attempting to weaken and isolate Iran, not negotiating with Israeli and Palestinian leaders, analysts said. With Israeli elections scheduled for February 10, the ongoing Gaza strike and its eventual aftermath may determine who Obama will choose as his Israeli interlocutor.

Obama spoke on the phone with Secretary of State Condoleezza Rice Saturday about Israel's the air strikes in Gaza and the movement of Pakistani troops away from the Afghanistan and toward the Indian border. The conversation lasted about 8 minutes, according to a transition aide who also said the president-elect will continue to closely monitor these events from his vacation home in Kailua, Hawaii.

"President-elect Obama is closely monitoring global events, including the situation in Gaza, but there is one president at a time," said Obama spokeswoman Brooke Anderson.

The air strikes—which came in response to increased rocket fire from the occupied Gaza Strip, which is governed by Hamas—continued for a second day on Sunday, as the Israeli government began mobilizing troops for a potential ground incursion. Israel's leader signaled that this could be an extended conflict, though Israeli leaders have emphatically denied any intention of reoccupying the independently governed territory.

While some analysts saw the timing of the strike as an attempt to set facts on the ground before the president-elect takes office, American leaders on both sides of the aisle backed Israel's attack.

The White House put the onus for the Israeli strike squarely on Hamas, with spokesman Gordon Johndroe calling the rocket attacks "completely unacceptable," and calling the group's leadership "nothing but thugs."

"Israel is going to defend its people against terrorists like Hamas," he said.

House Speaker Nancy Pelosi, a close Obama ally, offered a similar assessment.

"Peace between Israelis and Palestinians cannot result from daily barrages of rocket and mortar fire from Hamas-controlled Gaza," she said. "Hamas and its supporters must understand that Gaza cannot and will not be allowed to be a sanctuary for attacks on Israel."

Obama campaigned within the hawkish Democratic Party mainstream on policy toward Israel, generally backing Israeli military action, but has also signaled some openness toward a more leftward tilt, including peace groups in a meeting earlier this month at transition headquarters.

"While this morning's air strikes by Israeli Defense Forces in Gaza can be understood and even justified in the wake of recent rocket attacks, we believe that real friends of Israel recognize that escalating the conflict will prove counterproductive, igniting further anger in the region and damaging long-term prospects for peace and stability," said Jeremy Ben-Ami, the executive director of one of those groups, J Street, who called for U.S. pressure to reinstate a ceasefire in Gaza.

But Obama has signaled in the past that he backs retaliation against Hamas rocket fire, noted AIPAC spokesman Josh Block. Obama said during a visit to Israel last summer that he didn't "think any country would find it acceptable to have missiles raining down on the heads of their citizens.

"If somebody was sending rockets into my house where my two daughters sleep at night, I'm going to do everything in my power to stop that. And I would expect Israelis to do the same thing."

Within Obama's transition, Democrats say there's a subtle division between between advisors who hold out hope for a direclty negotiated peace, culminating with a signing ceremony on the South Lawn, and those who have argued for a more oblique approach aimed at a negotiated peace between Israel and Syria, and weakening Syria's ties with Iran. The latter group of advisors—which include former Clinton aides Dennis Ross and Martin Indyk—see weakening the role of Iran, which is closely tied to Hezbollah, as central to establishing an Israeli-Palestinian peace.

The hostilities between Israel and Hamas in Gaza may strengthen their case, analysts on both sides of the divide said Sunday. But the success of the attack may have the reverse consequence in Israeli politics, strengthening foreign minister and Kadima Party leader Tzipi Livni, who is seen as being somewhat more open to negotiations with Palestinian leaders than her main rival, former prime minister Benjamin Netanyahu.
Copyright POLIT - Politico