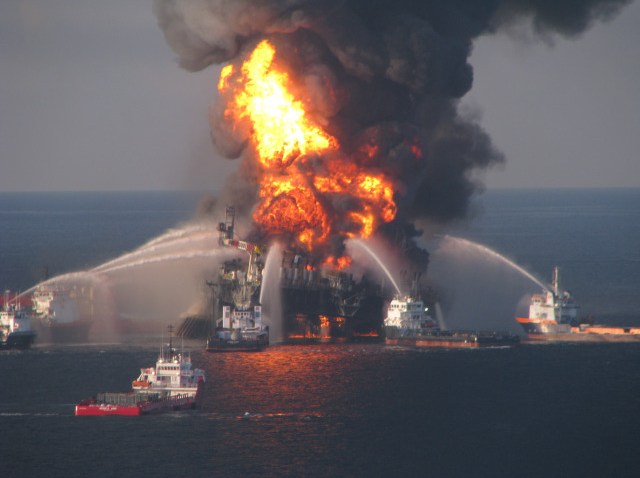 Investigators are looking into whether the firefighting response to the Deepwater Horizon rig explosion contributed to its sinking, a Coast Guard spokesman told a nonprofit watchdog group.
In a report issued Wednesday, the Center for Public Integrity quoted Capt. Ron LaBrec as saying that "the joint investigation is absolutely looking into that, and whether it contributed to the sinking."
The concern focuses on the fact that saltwater was used on the floating rig instead of retardant foam. That could have overwhelmed the ballast chambers that kept the rig afloat with air and water, changing its weight distribution and causing it to list and then sink two days after the April 20 explosion, the center stated.
The Coast Guard has said none of its ships were equipped to fight a rig fire and that they focused instead on search and rescue.
"We have expertise in fighting a fire on board our vessels, but since firefighting is not one of our missions, we do not train for rig fires and that has really been the responsibility of the rig owner and operator," LaBrec was quoted as saying.
Instead, the firefighting effort was led by a half-dozen private boats, the center said.
The center said LaBrec acknowledged that spraying salt water onto a burning rig may have affected the ballast. "In the end it may really depend on what agent is available and in this case it appears it was salt water only," he said.
Experts interviewed by the center agreed that salt water can affect a rig's balance, but they disagreed whether it would have mattered in Deepwater Horizon's case since the explosion was so severe.
The center also cited testimony before the Deepwater Horizon investigative commission suggesting that the Coast Guard did not follow its procedure to put someone in charge of firefighting in such a disaster.
Kevin Robb, a civilian Coast Guard specialist who was the first watch commander the night of the accident, said at a May 11 hearing that he knew of no attempt to designate a fire marshal.
The center cited testimony by the Coast Guard official chairing the investigation, Capt. Hung Nguyen, who then questioned whether that chaotic response contributed to the sinking.
"So what we're looking at here is maybe if there's no coordination out there, no direction out there, we may be throwing water onto a disabled vessel that may lead to this sinking; is that correct? Is that the potential?" Nguyen asked Robb.
"That is exactly correct," Robb responded.
Copyright MSNBC - MSNBC