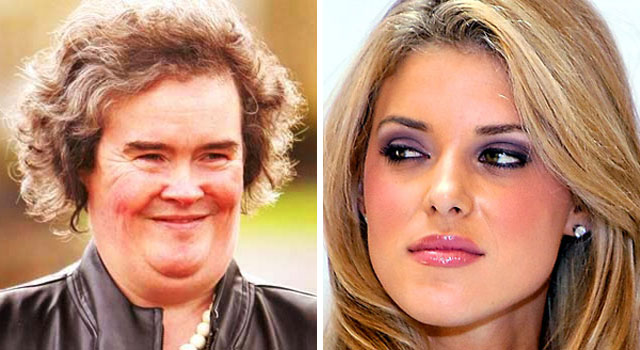 They both burst onto the scene within days of one another in April: a frump who answered snickers with an unexpected talent, and a beauty who inspired controversy with an answer to an unexpected question.
Now Scottish songbird Susan Boyle and former Miss California Carrie Prejean are back in the news, both trying to make fame last beyond the proverbial 15 minutes – or three-plus months, if you're going by the calendar.
If there's any justice in this world, only one of them is here to stay.
On April 11, Boyle, the dowdy, never-been-kissed spinster, wowed the world with her rendition of "I Dreamed a Dream" on "Britain's Got Talent," generating millions of YouTube hits and accolades.
On April 19, Prejean reignited a national debate when she spoke out against gay marriage after being blindsided by a question from Miss USA judge Perez Hilton. Her clash with the online gossip columnist also went viral on YouTube, though both accolades and arrows flew her way.
Both women hitched a ride on the rollercoaster of celebrity – or as Boyle recently characterized her experience, she got slammed by the "giant demolition ball" of fame. Amid a media frenzy, she ultimately placed second in the "Britain's Got Talent" competition, exhibited some erratic behavior and checked into a clinic to rest her badly frayed nerves.
Prejean placed second in the Miss USA pageant. Amid a media frenzy, racy pictures surfaced. Pageant chief Donald Trump let her keep her Miss California title – only to strip it less than a month later, contending she hadn't fulfilled her beauty queen duties.
Prejean, though, never lost her nerve. She's inked a book deal to write, at age 22, a memoir, it was revealed this week. "Still Standing" is expected to be a rebuttal to those who assailed Prejean for expressing her opinion.
While Prejean is writing, Boyle is recording an album. Her heavily promoted interview Wednesday night on "America's Got Talent," reportedly forced the White House to shift President Obama's televised news conference an hour earlier so her show could go on.
Boyle, to be sure, possesses a rare talent in her angelic voice. Prejean's more common ability, meanwhile, appears to rest in a knack for controversy and self-promotion.

Whether we're talking about either or both women a year from now will say a lot about fame's relationship with infamy, which seems to be growing closer, and its increasing fickle relationship with talent.
It may be a tad optimistic to predict that Prejean's book will mark the final chapter on her public life – she seems like a natural to end up on a cheesy reality show.
The book, hopefully, will remain open for a long time to come on the Susan Boyle story. As she declared on the "Today" show, describing the key to her unlikely success tale: "Don't judge a book by its cover."
Hester is founding director of the award-winning, multi-media NYCity News Service at the City University of New York Graduate School of Journalism. He is the former City Editor of the New York Daily News, where he started as a reporter in 1992.
Copyright FREEL - NBC Local Media