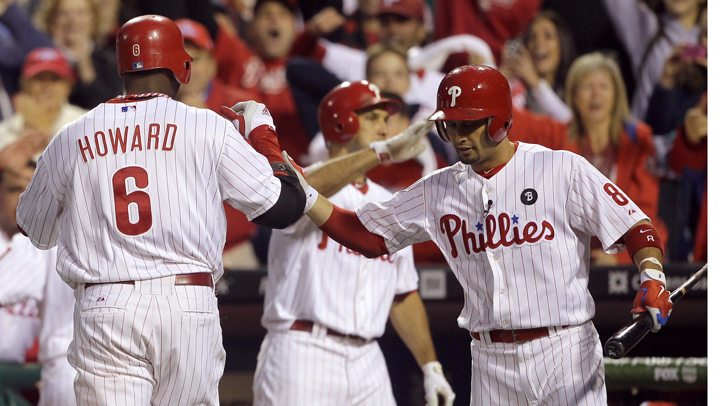 Ryan Howard took a mighty cut, dropped his bat and admired the shot.

The big slugger didn't go down looking in a clutch spot this time, Roy Halladay overcame a shaky start and the Phillies beat the St. Louis Cardinals 11-6 Saturday night in the opener of their NL division series.

Howard shook off his season-ending strikeout last October in the championship series to hit a go-ahead, three-run homer in a five-run sixth inning, sending Citizens Bank Park into a frenzy.

"I left last year in the past," Howard said. "You can't let what happened last year affect this year. It's a fresh start."

Halladay retired his last 21 batters, and the NL East champions began their all-or-nothing postseason run with a comeback win.

Halladay allowed three runs and three hits, striking out eight in eight innings. He didn't allow a runner after Skip Schumaker led off the second with a single.

"That's why he's the best in the game," Cardinals slugger Albert Pujols said. "We wanted to keep adding on it, but we just never put that inning together again."

Game 2 is Sunday night, with Cliff Lee pitching for Philadelphia against Chris Carpenter, who is starting on three days' rest.

Raul Ibanez hit a two-run shot off Kyle Lohse to cap the Phillies' burst in the sixth, and Shane Victorino had three hits and two RBIs.

Last year, in his first career playoff start, Halladay threw the second no-hitter in postseason history in Philadelphia's 4-0 victory over Cincinnati.

His bid for an encore in the first round didn't last one batter, and Lance Berkman hit the first three-run homer off Halladay in three years to put the wild-card Cardinals up 3-0 in the first.

But the offense bailed out Doc.

"I couldn't think of a worse start and putting your team in a hole like that," Halladay said. "But you get to this point, you're not going to pack it in."

Lohse retired the first 10 batters before Chase Utley hit a double off the right-field fence in the fourth. The righty, who was 14-8 this season, ran out of gas in the sixth.

Down 3-1, Jimmy Rollins singled to start the inning. After Utley struck out, Hunter Pence grounded a single up the middle. That brought up Howard, who heard a lot of criticism for taking that called third strike last year in the NLCS with the tying run on second base to end the Phillies' season against San Francisco.

Howard worked a full count before launching a towering drive into the second deck in right-center to give the Phillies a 4-3 lead.

The towel-waving crowd went wild, and Howard came out for a curtain call.

"In that situation, I knew he wasn't really going to throw a fastball, so I just sat on the changeup," Howard said. "Trying to get me to chase, but he just kind of left one up there hanging for me."

Victorino followed with a single. Ibanez then lined a two-run homer to right to end Lohse's night.

Lohse allowed six runs - five earned - and seven hits in 5 1-3 innings.

The Phillies cruised to their fifth straight division title, winning a franchise-record and major league-best 102 games. Anything less than a second World Series title in four years will be considered a failure by players, management and fans.

A crowd of 46,480 was the 218th straight sellout at Citizens Bank Park, including postseason play. The stadium resembled an apple orchard with all the red-clad fans.
---
Fan, follow and download: Get the latest from NBCPhiladelphia.com anytime, anywhere. Follow us on Twitter, Facebook and NBC Philadelphia. Sign up for our sports newsletter. And, get breaking news delivered right to your mobile phone -- just text PHIBREAKING to 639710 to sign up. (Message and data rates may apply.)



Copyright AP - Associated Press