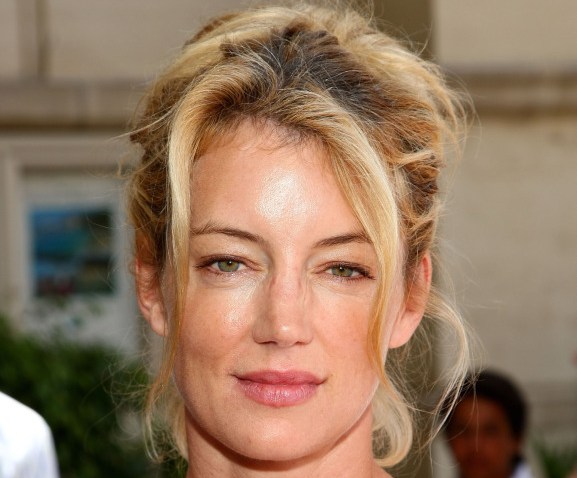 I'm not one who goes wild over new characters being thrown into the mix on "House." Let's face it, there are only four important characters on "House", and they are as follows: House, Cuddy, Wilson, and whatever guest star is around for House to demean and yell at. That's really all the show requires.

The show has rotated various additional characters in and out over the years: Kutner, Thirteen, Bald doctor, Amber, Sela Ward, David Morse's evil cop, and on and on and on. They also have the private eye who is now Cuddy's boyfriend. That guy is annoying. None of these extra characters have meant much to the show. They're just there so that the writers have new walls for House to bounce off of. House is the center of the show. Any time the show veers away from him, it immediately becomes 98% less interesting.

But the show's producers are willing to roll the dice once more, bringing in "Lost" alum Cynthia Watros as Wilson's ex-wife/rekindled love interest. EW's Mike Ausiello has both the scoop and the follow up scoop on the newbie (WARNING: Spoilers):
Sources confirm to me exclusively that the Emmy-winning actress has been cast as Wilson's first ex-wife (he's had three) who comes back into his life as his new girlfriend.

And this isn't some passing fling. I'm told Watros is on board for multiple episodes…

As series creator David Shore explains, "This isn't just House being protective of Wilson, this is him being protective of Wilson against somebody who arguably knows Wilson as well as House does. And I think that's what makes the scenes [between Hugh Laurie and Cynthia Watros] so interesting. You have these two people who apparently care about Wilson, although they've both made some dramatic mistakes in that regard, kind of fighting over him."
This sounds like an ominous rerun of the Amber storyline from two seasons ago. Wilson gets in relationship. House sabotages relationship. Wilson gets all huffy but stays friends with House anyway. Etcetera, etcetera. The fact that Watros will play an ex-wife of Wilson's makes it slightly more intriguing, given that his exes have, up until now, all been kept off camera, like Vera on "Cheers." So that wall is coming down. If Watros' character serves to deepen and alter the relationship between Wilson and House (the heart of the show), it could be a gamble worth taking.

But again, this show dies when it gets too far away from House and the demons in his head. That's where it always needs to stay.