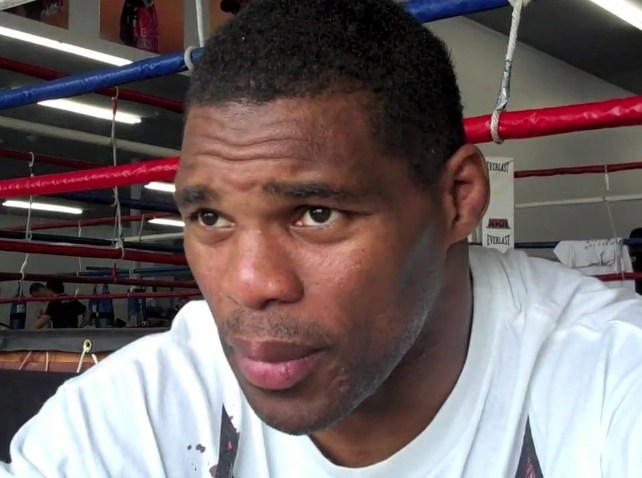 Herschel Walker has endured many things: growing up in Georgia, a physically punishing college and NFL football career, dissociative identity disorder, and an up close and personal experience with the inexplicable horror that is Donald Trump's hair.
Offhand, we'd say that having one of your own personalities try to kill you pales in comparison to that last part. But on January 30, Walker may face his toughest challenge yet: he'll make his Mixed Martial Arts debut at 47 years old, fighting a man more than 20 years his junior at the BankAtlantic Center on the Strikeforce: Miami card.
"He's an unbelievable athlete," Maggie Hendricks of Yahoo!'s excellent Cagewriter blog told us. "He won a Heisman, played in the NFL, went to the Olympics on the U.S. Bobsled team. There are fighters who are in their late '40s, like Randy Couture...
"I have an open mind. I want to see him succeed because it adds an interesting wrinkle to the sport."
Of course, Couture's been doing this for years; Walker signed with Strikeforce in September.
Though conventional wisdom has never applied to Herschel -- he went through the NFL with his own regimine of sit-ups and push-ups instead of weight training, danced with the Forth Worth Ballet, eats only one meal a day, distributes chickens for a living, and sleeps just 3-4 hours -- MMA has proved to be a challenge for other celebrity sports stars who've stepped into the ring.
"There have been some athletes that have been totally an embarrassment," he says of fellow pros who've tried fighting and flamed out. "Jose Canseco, it's insulting, the guy never trained. I'm a guy that's serious about this. This is fighting, you get hurt."
Staffers at the prestigious American Kickboxing Academy in San Jose told Hendricks that Walker is so serious, he's the first to arrive and last to leave. We might be, too, if our debut was going to be a marquee televised event instead of coming in with the usual preliminary fight. Even a fifth-degree black belt in tae kwan do only counts for so much when you've never been in the octagon before.
Fortunately for the College Football Hall of Famer, whom Florida Boxing Commission doctors referred to as "47 going on 22," his first heavyweight match is against 26-year-old Greg Nagy, a career 1-1 fighter who "isn't that impressive."
"If [Walker] gets knocked out in the first ten seconds," Hendricks said, "that looks really bad. Everyone looks bad. ... It's okay if he loses, so long as the fight's good, so they've matched him up with someone who's more on his level."
And if it doesn't go well? There's always that chicken distribution business to attend to, and the knowledge that whatever happens, "chicken" sure doesn't apply to the boss. No matter what Dana White says.