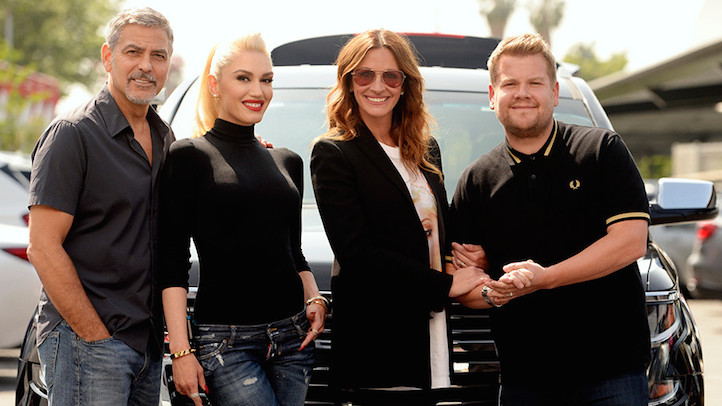 Gwen Stefani joined James Corden in the passenger seat for a round of Carpool Karaoke on CBS' "Late Late Show" Wednesday, and it was a truly magical experience.
They got down to some of Stefani's new hits, some old hits, some No Doubt favorites, and of course, discussed her adorable relationship with "Voice" co-star Blake Shelton. Singalongs included Stefani's's "Used to Love You," "Sweet Escape" and "Rich Girl," plus No Doubt's "Don't Speak."
At one point, Corden complimented the 46-year-old singer's appearance. "I feel like you are like Benjamin Button. You are not aging. I feel like you're getting younger. You are just ageless. My wife is going, 'I just want to know what she does. What's her regime?' I feel like in the past year I've aged about 10 years," he said.
Referring to her split from husband Gavin Rossdale, Stefani replied, "What happened was my life blew up. After that I kind of started falling in love. Then I wrote a whole record about that. That's like what the facelift is, I think!"
The late-night host needed two more people in order to drive in the carpool lane, so he picked up an A-list actor: George Clooney. "You owe me big time for this," he said after hopping in the backseat. Clooney then called his "Money Monster" co-star Julia Roberts and asked her to join their musical on wheels. Together, the four stars sang Stefani's "Hollaback Girl" and Queen's "We Are the Champions."
Stefani is just the latest star to join Corden for a ride to work. Jennifer Lopez and Sia both recently occupied that passenger seat, and upcoming installments include trips with Selena Gomez and a joint ride with Demi Lovato and Nick Jonas.
Blake Shelton and Gwen Stefani's Cutest Moments
Demi Lovato and Nick Jonas Are Going for a Ride on Carpool Karaoke With James Corden
Copyright E! Online