Three women and a suspected gunman were found dead Friday evening after a more than six-hour hostage standoff at a veterans home in Yountville, California, according to law enforcement officials.

California Highway Patrol Assistant Chief Chris Child said three females and one male were found dead.
The Napa County Sheriff-Coroner's office identified the suspect as 36-year-old Albert Wong from Sacramento who was formerly in the Pathway Home Program.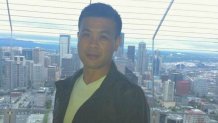 The three women held hostage were identified as members of the Pathway Home family: Executive Director Christine Loeber, Dr. Jen Golick, a therapist and Dr. Jennifer Gonzales, a psychologist with the San Francisco Department of Veterans Affairs Healthcare System.
In a statement from the Pathway Home, the women were described as "brave and accomplished professionals who dedicated their careers to serving our nation's veterans."
Hotline for friends and loved ones of families affected by the Yountville shooting: (707)-948-3331
Earlier in the day, heavily armed law enforcement officials swarmed the Veterans Home of California Yountville — the largest in the country — after a gunman fired shots at a sheriff's deputy and took multiple hostages during a party organized by a veterans program.

California authorities say officers at around 10:20 a.m. exchanged gunfire with a gunman holding three veterans program employees hostage at the veterans home.[[476406353, C]]
Napa County Sheriff John Robertson told reporters Friday that "many bullets" were fired but that the deputies weren't injured. He says he doesn't know the status of the hostages or the gunman's motive.
Child previously said offices were unable to make contact with the gunman who was confined to one room. Multiple hostage negotiators, including the Napa County Sheriff's office and the FBI, also responded to the scene.
Officials said the hostages were employees of The Pathway Home, a privately run program on the veterans home's grounds. The program treats veterans of the Iraq and Afghanistan wars with post-traumatic stress disorder.
The suspect used a rifle to fire the shots, but officials are not sure what kind yet. They also know the identity of the gunman, but are not releasing the information.
State Senator Bill Dodd said the suspect was reportedly a veteran enrolled in the PTSD program offered at the facility, but had been asked to leave earlier this week.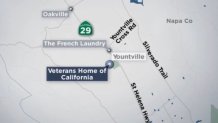 According to CHP officials, a call came in at 10:20 a.m. alerting them to the "shots fired." Napa law enforcement officers were on the scene within four minutes.
The state Veterans Affairs department says the facility − located at 260 California Drive in Yountville, which is located north of San Francisco — is the largest veterans' home in the United States, with about 1,000 residents.
Yountville, which is located in the heart of California's wine country, is perhaps most famous for the restaurant, The French Laundry.

Pathway Home's program treats veterans of the Iraq and Afghanistan wars with post-traumatic stress disorder.
The California Veterans Affairs office released a statement right after the shooting, saying: "Law enforcement is at the Yountville Veteran's Home right now following reports of gunfire. The safety of our residents, workers and the community is our top priority. We have activated our emergency response protocol and are cooperating with law enforcement."
The Napa Valley Register described the gunman as "a man, dressed in black and wearing body armor ... reportedly armed with an automatic weapon."

A resident inside the facility told NBC Bay Area a person with body armor and weapon entered Building G - which he described as a "halfway house."
He said Building G housed veterans from Operation Desert Storm.
Larry Kamer says his wife, Devereaux Smith, is a fundraiser for the nonprofit Pathway Home.
He said the gunman quietly came into a going-away party and staff meeting at a Northern California veterans home and let some leave, while keeping others hostage.
Smith was at the party Friday morning of 10 to 15 people at the Yountville veterans home. Kamer said his wife was inside the home's dining hall and was not allowed to leave. He spoke to her by phone.
Kamer said he does not know why the shooter let his wife and some colleagues leave.
Jan Thornton of Vallejo is among hundreds of relatives worried about their loved ones at a Northern California veterans home that was locked down after reports of an active shooter.
Thornton says her 96-year-old father — a WWII fighter pilot — was inside a hospital wing at the home in Yountville, north of San Francisco.
Thornton says she's still shaking and that she hasn't been able to talk to her father. But, she says she was able to talk to one of his friends, who is also locked down, and that he told her that her father is safe.
She says her "heart just bleeds for the people that are being held hostage.''
Though she thinks her dad is safe, she is still worried about the stress of the situation, considering his age and that he has post-traumatic stress disorder and some dementia.
Queen of The Valley Medical Center has put a trauma team on standby for any possible patients.
Officials said some students from the Justin-Siena High School rehearsing a play on the grounds at the Lincoln Theater had been locked down when the gunman took hostages. The students were evacuated safely Friday afternoon.
Sasha Craig spotted a family car carrying her 15- and 17-year-old children. She ran toward it, blowing kisses. She says teens had been texting their parents to "chill."
A post on social media said: "Hi, please pray. We have about 30 police here at the Vet's home there is a shooter here. We're in lockdown in the MSC building."
Yountville Elementary School was briefly placed on lockdown due to police activity at the Veterans Home. Students and staff are safe, and the lockdown has been lifted. The school is proceeding with its normal schedule, the Napa Unified School District said.
Copyright AP - Associated Press