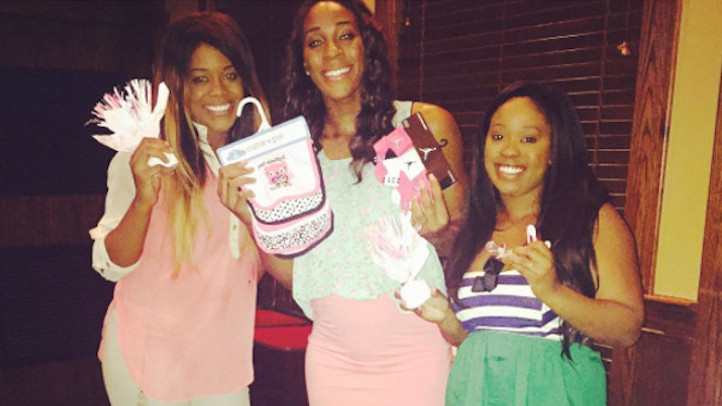 Glory Johnson is pregnant with twin girls, the 25-year-old basketball star announced via Instagram on Tuesday, one day after teasing a gender reveal on the photo-sharing site.
"#TeamBows #Blessed to be having 2 baby girls!!!" the athlete captioned a pic in which she's holding pink gifts for her newborns while also sporting a light pink dress that hugged her growing belly.
The announcement came mere days after an Arizona judge rejected Brittney Griner's request for an annulment of her marriage to Johnson.
Johnson and Griner announced in June that they are expecting their first child together, roughly one month after they tied the knot in Phoenix. However, one day after the announcement, Griner filed papers seeking to annul her 28-day marriage to the WNBA star.
READ: All the details on Griner and Johnson's nuptials
"It was a huge mistake," Griner told ESPN of marrying Johnson days after the annulment filing. "I just knew it was a mistake."
Johnson also cleared up a number of fertility rumors at the time. "I would like to address the inaccurate statements released surrounding my marriage and pregnancy, so that I can continue, after this statement, to focus on my privacy and allow our lawyers to handle this situation," Johnson, who later added that she got pregnant through IVF with her egg and a sperm donor, said. "At no stage was Brittney pressured to undertake the fertility process. In fact, throughout the entire process, Brittney was a willing participant, consenting and signing all the necessary documents that needed to be signed in order to move forward with the treatments."
Last week an Arizona judge rejected Griner's request for annulment. "I respect the judge's decision," Griner told People. "We are moving forward with the divorce on a 28-day marriage."
READ: All the details on Griner and Johnson's domestic violence arrest
Johnson, meanwhile, said she was "thankful the annulment was rejected because an act of marriage did occur," adding, "Together we made life changing decisions which impacted our lives collectively, and we both should be held responsible for those decisions."
Two weeks prior to saying I-do, the basketball stars were arrested on suspicion of assault and disorderly conduct after police responded to a domestic dispute at their new home outside of Phoenix. Following their arrest, the two were suspended by the WNBA for the first seven games of the season.
Johnson, who previously vowed to "continue to build my relationship with the Tulsa Shock organization, and my teammates," revealed in late June that she is expecting twins. "It's not a surprise for me because this is what we planned for with the IVF Cycle, though hearing their heats beat for [the first] time was the most astonishing thing I have ever heard in my entire life," she wrote on Instagram. "For 15yrs Double-Doubles came with hard work and dedication...now I've been blessed by God to have "double doubles" for the rest of my life! Behold, children are a heritage from the Lord, the fruit of the womb a reward. Psalms 127:3."
Copyright E! Online