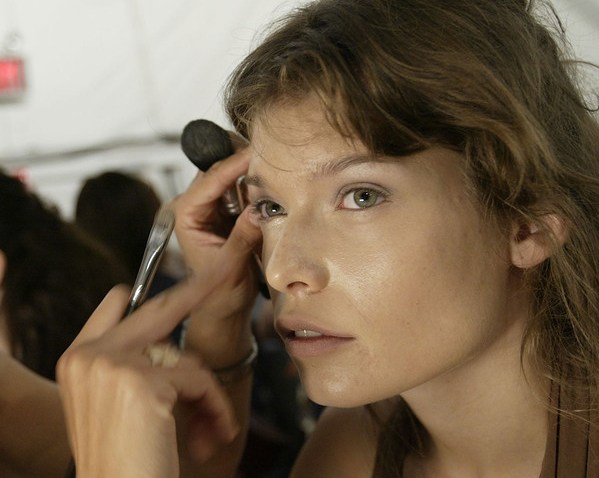 The red carpet is the ultimate inspiration for the latest makeup trends, but it's frustrating to achieve the same look - it's just never the same.
There is hope for the makeup-challenged. The cosmetics industry has realized that real women need a little help when it comes to makeup and they are doing something about it.
[ VIEW THE PHOTOS: Heidi Klum ]
TALK TO ME
Stila, a favorite with Nicole Kidman, Natalie Portman and Cate Blanchett, has taken the mission to help real women become their own experts, to a whole new level with the brand's "Talking Palettes" Collection. Basically, you open the compact, press an audio button and a recording instructs you where and how to use each color to achieve star-worthy looks. It even tells you what kind of brush to use. Genius! Think of it as your own personal makeup lesson- without the pushy salesgirl at the cosmetics counter.
[ VIEW THE PHOTOS: Nicole Kidman ]
There are five new Stila Talking Palettes including Paint Your Pout Red, Smoky Eye and Purrfect Eyes, which is a collection of neutral colors. More at StilaCosmetics.com.
FOR YOUR EYES ONLY
"Eyes By Design" makes it easy with four shadow palettes specifically designed for each eye color. For example, the Blue Eyes collection consists of peach, taupe, brown and bronze shadows that promise to bring out the sparkle of blue eyes. Each palette includes a detailed guide to help with techniques. Go to HSN.com for more information.
[ VIEW THE PHOTOS: Natalie Portman ]
SCHOOL OF ROCK
Angie Harmon and Debra Messing love Bare Escentuals and the natural makeup company has an entire educational tutorial series, including its latest, "Rocker Eye." It includes metallic shades, a brush and a step-by-step tip card for a variety of looks from "soft rock to heavy metal." Cute! For more, visit BareEscentuals.com.
Finally, foolproof, ok, nearly foolproof, ways to help us all look red carpet ready.
TODAY'S FASHION FLASH
Related Content from AccessHollywood.com:
PLAY IT NOW: Access Style: 'Sex And The City' Fashion
PLAY IT NOW: 2008 Emmy Style: Emmy Trends

Copyright NBCAH - Access Hollywood