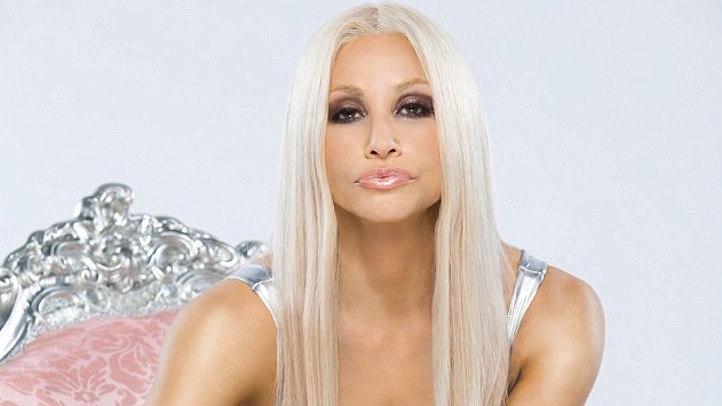 Talk about a double take!
Last month it was announced that Gina Gershon will play Donatella Versace in Lifetime's latest original movie, "House of Versace," and now, we have our first look at the "Killer Joe" star as the legendary fashion icon.
Gershon is the spitting image of the famed designer in the shot, sporting Donatella's long blond locks, signature plump lips and dark smoky eyes. The actress' chestnut brown locks and dark features are nowhere in sight as she purses her pout just like Donatella while rocking flashy jewelry and a silver metallic dress.
U.S. & World
VIDEO: Watch Gina Gershon on "Chelsea Lately"
Based on Wall Street Journal reporter Deborah Ball's book "House of Versace: The Untold Story of Genius, Murder, and Survival," the flick follows the life of the 58-year-old fashion icon after her brother Gianni Versace's (Enrico Colantoni) 1997 slaying.
In an effort to carry on her brother's legacy, Donatella is suddenly thrust into the spotlight as the new head designer of the fashion house, but she's quickly ridiculed by critics, sending her on a downward spiral fueled by drug abuse that causes her to nearly bankrupt the company.
With the help of her family, the troubled designer enters rehab to tackle her demons, only to relaunch the Versace brand and create one of today's most successful fashion empires.
NEWS: Remember Lindsay Lohan's Lifetime movie?
The flick, which also stars Raquel Welch as Donatella's Aunt Lucia as well as Colm Feore as her brother Santo, is set to premiere Oct. 5 at 8 p.m. on Lifetime.
Following the film's debut, Lifetime will air an hour-long documentary titled "Versace: Beyond the Headlines," which gives an in-depth look at Gianni Versace's life from his early beginnings in the fashion business to his tragic murder outside of his Miami mansion 16 years ago.
Copyright E! Online