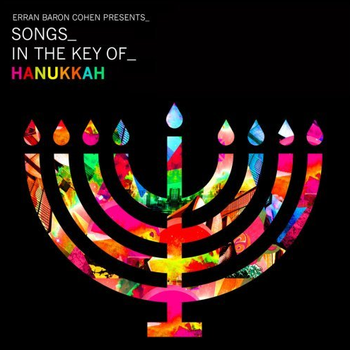 Composer Erran Baron Cohen (brother of Sacha), decided Hanukkah needed a bit of a musical update. "I remember from my childhood listening to Hanukkah songs at home and listening to these children singing slightly out of key and some wonky old piano player joining them to make a terrible record," he tells NPR in a fun podcast interview about what motivated him to create his eclectic album, Songs in the Key of Hanukkah. Old classics get a fun revamping (Dreidel gets a phat new beat...check out the fun video below the jump) while new ones are an interesting & touching mix of world music, klezmer, horns, and hip hop for a new millenium blend; on My Hanukkah (Keep the Fire Alive) with rapper Y-Love, an African-American rapper who converted to Orthodox Judaism and raps in English, Yiddish and Aramaic. Songs In The Key Of Hanukkah is available at either as a CD or MP3 album at Amazon.com.
So drink your gin-and-tonic-ah, and tell Veronica...and have a fab Hanukkah! In honor of the eight crazy nights which begin tonight, December 11. And be sure to sing along to The Hanukkah Song by Adam Sandler!
- Lesley Scott-Silbergeld
fashiontribes
.
Copyright FTrib - FashionTribes