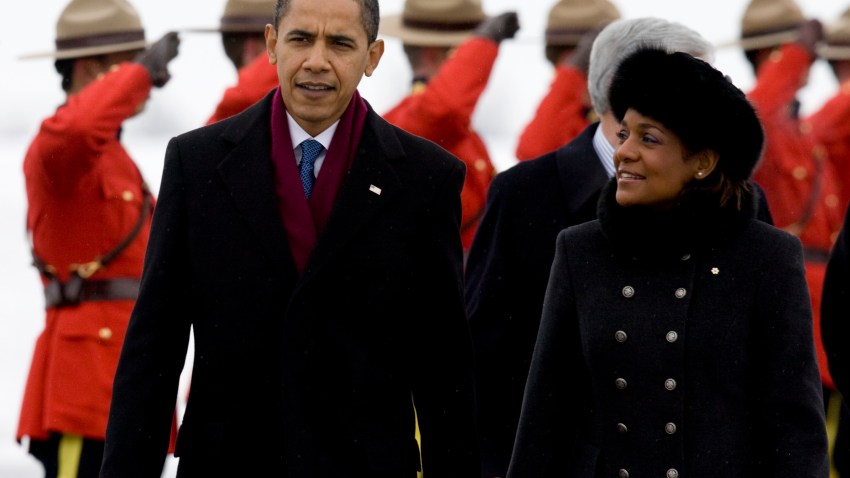 OTTAWA – Berlin, it was not.

President Barack Obama's first foreign trip as president was unfussy and minimalist. He might have been able to muster a crowd of 100,000 to 200,000 here, the way he did in the German capital over the summer, but he didn't even try.

In fact, his main contact in a country clearly gripped with a case of Obama envy was a visit to an indoor food market, where the Canadian Broadcasting Company noted admiringly that he tried paying for his Maple Leaf cookies in Canadian Loonies, not dollars. (The vendor wouldn't take his money.)

Obama was aware of his star power. Upon his arrival on Parliament Hill, Obama took Prime Minister Stephen Harper by the arm and ushered him to a position where spectators assembled on the snowy front lawn could see them.

"You mind if we go over and give a little wave?" Obama asked Harper, according to a White House aide who was present. Obama and Harper acknowledged the crowd, which roared in return, and the president disappeared into the ornate Gothic building.

But that was it. To a country that desperately wanted more, Obama's seven-hour trip Thursday to Canada felt a little like drive-by diplomacy.

Obama jetted into the country at 10:30 a.m. and was back on Air Force One by 5:05 p.m.

His agenda was simple. He breezed through meet-and-greets with Canadian notables, and sat down for a lunch of tuna and arctic char with Harper. They emerged with an announcement – agreed to ahead of time – to work together on developing clean energy technology.

It all seemed by design, an almost conscious desire to tiptoe through his first contact abroad.

In fairness, he is a bit preoccupied at home, with the economic meltdown and all. Bill and Hillary Clinton skated on Rideau Canal in 1995. George W. Bush went for a bike ride in 2007. Obama waved in 2009.

And part of the message here also might have been simple to translate: I'm not Bush. After much of the populace soured on Bush, Obama's approval ratings top 80 percent here. Obama might have been going for less swagger, more get-to-know-you.

Certainly, that was the tone of his first press conference on foreign soil as president, an effort to smooth over what differences did exist with Harper.

Both men took pains to show how collaborative the countries intend to be – even while acknowledging some fault lines.

The president tried to soothe concerns over his free-trade goals by assuring Harper that he wants to expand trade across the border, not shrink it. Harper, in turn, made sure to note that his country used its economic stimulus package to encourage trade, not impede it, in what was a subtle dig at the "Buy American" provision in the stimulus plan signed by Obama Tuesday.

Obama even downplayed his own desires to step up the military pace in Afghanistan, thanking Canada for its troop commitment but declining to press Harper to reconsider a planned pullout in 2011.
Despite differences on some key issues, Obama and Harper presented a warm, if businesslike, exterior.

"As I've said, the United States is once again ready to lead," Obama said. "But strong leadership depends on strong alliances, and strong alliances depend on constant renewal. Even the closest of neighbors need to make that effort to listen to one another, to keep open the lines of communication, and to structure our cooperation at home and around the world."

Harper added: "This would be the safest prediction in the world, that today Canada and the United States are closer economically, socially, culturally, in terms of our international partnerships ... closer friends than any two nations on the face of the Earth. And I think we can safely predict that in four years' time we will be in exactly the same spot."

Obama chose to visit Canada first as a way to show that he considers the country a close ally with mutual interests in Afghanistan, and on global trade, climate change and energy development, aides said.

And make no mistake, the Canadians held out hope for so much more -- that Obama might address Parliament, as leaders from the Ukraine, Afghanistan and Australia have done in recent years. Then they buzzed over the possibility of an outdoor rally of some sort. Neither came to be.

The televisions in the press holding room at the Parliament building illustrated the gulf in interest between the countries.

On the side occupied by Canadian reporters, a flat-screen TV was tuned to a French Canadian network running a continuous loop of stories, analysis and live shots of the president's movements from Washington to Ottawa. When Air Force One touched down, the Canadian media rushed to the TV.

On the American side, the TV was on CNN, which showed intermittent coverage of the trip. Viewers were otherwise treated to dispatches from just about everywhere else: Iran, California, Afghanistan.

"There is a natural sense of disappointment because people would have really, really, really liked to see him in a larger forum," said Martin Stringer, a journalist for CPAC, the Canadian version of C-Span, who has covered the country's politics for more than 25 years. "The government's line here is, 'He will be back.'"

In the end, Obama gave the country a little more than it expected.

Obama made an unannounced stop at the market on his way to the airport. Bedlam ensued as surprised customers surged toward the president.

He came looking for BeaverTails – the beloved Canadian pastry, not the animal. Amid the euphoria last month over Obama's inauguration, chefs here turned the BeaverTail into the "Obama Tail," which involved adding a swirl of chocolate to the flaky pastry.

"I figure I'd get some points from my daughters," Obama announced before ducking out of the market to catch his flight out of town.

He promised to return to the country - when the weather was warmer.
Copyright POLIT - Politico