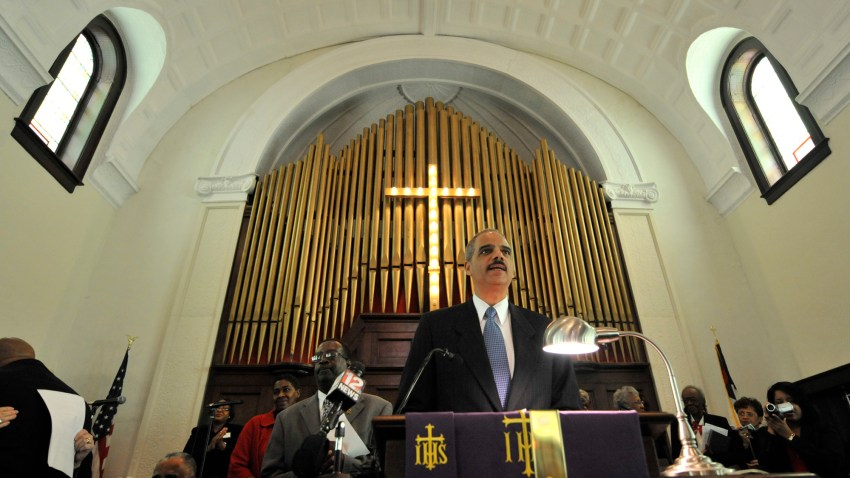 The nation's first black attorney general and Gov. George C. Wallace's daughter celebrated the Selma-to-Montgomery voting rights march Sunday — 44 years after state troopers from her father's administration beat marchers starting the landmark journey.

Peggy Wallace Kennedy introduced Attorney General Eric Holder at a historic Selma church filled to overflowing.

"It's reconciliation and redemption," Wallace's daughter said.

Selma's annual Bridge Crossing Jubilee, commemorating the 1965 voting rights march, brought together civil rights leaders Jesse Jackson, Al Sharpton and Joseph Lowery in addition to the attorney general and several members of Congress, including Rep. John Lewis, D-Ga., who was beaten in the original Selma march.

Holder and Kennedy embraced at Brown Chapel AME Church, where marchers organized on March 7, 1965, to begin their 50-mile march to Montgomery.

A few blocks into the march, they were beaten by state troopers on Selma's Edmund Pettus Bridge_an event that became known as "Bloody Sunday."

The march to Montgomery was later completed under federal protection, with Martin Luther King Jr., leading it. It prompted passage of the Voting Rights Act, which opened Southern polling places to blacks and ended all-white government.

"I am a beneficiary of Selma," Holder said.

Wallace's daughter endorsed Barack Obama for president last fall, but she and Holder had never met until Sunday. U.S. Rep. Artur Davis of Birmingham, a Democrat who is campaigning to try to become Alabama's first black governor, asked her to introduce Holder. But the ties between Holder and Kennedy go back decades in Alabama history.

Her father stood in the schoolhouse door at the University of Alabama in 1963 in an unsuccessful attempt to keep Holder's future sister-in-law, Vivian Malone Jones, from integrating the university.

"I so wish Vivian had lived to see this moment," Holder said after hugging Wallace's daughter.

Kennedy said that as a child watching the Selma-to-Montgomery march, "I knew their cause was just." But she said she never spoke out politically until she endorsed Obama, who appointed Holder.

Selma's black mayor said it was appropriate that the 44th anniversary of the voting rights march followed the inauguration of the nation's 44th president.

"What happened in Selma 44 years ago set in motion events that led to the election of our 44th president, Barack Obama," Mayor George Evans said.

Holder said no one dreamed on "Bloody Sunday" that George Wallace would later apologize for his segregationist views or that his daughter would one day support Obama for president.

But he said it's not time to rest.

"It will take much more than the election of the first African-American president to make Dr. King's dream a reality," Holder told an audience of more than 500 people earlier at Wallace Community College.

Holder also said it's vital to protect a key provision of the Voting Rights Act. The U.S. Supreme Court agreed in January to review a lower court ruling upholding a portion of the law that requires all or part of 16 states, including Alabama, to get federal approval before implementing any changes in the way elections are held.

"We must commit ourselves to continuing to defend the Voting Rights Act, which is under attack," Holder said.

Holder did not make direct mention of his remarks last month to Justice Department employees marking Black History Month. In that speech, Holder said that while the country has proudly thought of itself as an ethnic melting pot, "in things racial we have always been and I believe continue to be, in too many ways, essentially a nation of cowards."

President Barack Obama said he would not have used that language.

In Selma, Holder said there are still injustices to address. "We need to do more including communicating more, about the difficult challenges we face as a nation," he said.

After Holder's speech, more than a thousand people marched from the church across the Edmund Pettus Bridge to commemorate "Bloody Sunday."
Copyright AP - Associated Press