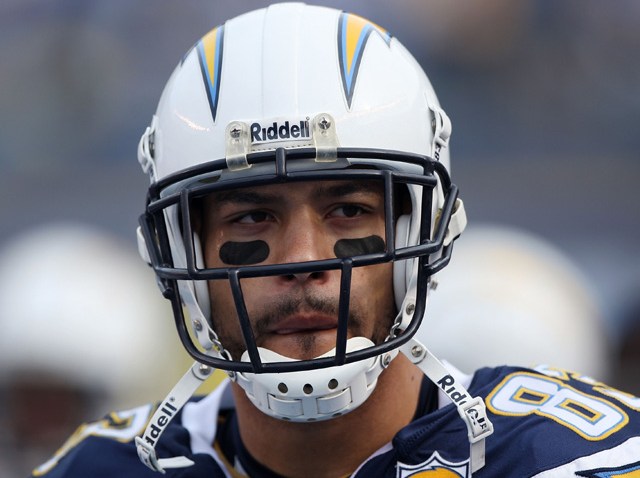 I'm of the mind that NFL holdouts never need to be taken seriously. The last player to hold out for a full season, to the best of my knowledge, was Sean Gilbert back in 1997. That was thirteen years ago. Occasionally, you might get a rookie holdout go into the season, the way JaMarcus Russell's did, or Michael Crabtree's holdout last year. But, in the end, the holdout is almost always resolved before a full season is lost.
This is because players A) Want to make money now, and B) Don't have much time to do it, especially playing a sport like football. Throw in the fact that the 2011 season is in danger, and players this year have all the more reason to show up. No rookie from this year's first round will hold out into the regular season, and you can bet that's a reason why.

Then we come to the very curious case of Chargers wideout Vincent Jackson and his teammate, tackle Marcus McNeill. On the surface of things, Jackson's holdout appears pretty much like every other holdout. Player wants more money (in Jackson's case, $30 million guaranteed). Management says no. Player holds out until caving. All that is fairly routine.

But there's a hitch in all this. Jackson is suspended for the first three games of this season for an offseason DUI charge. And just yesterday, the Chargers placed both holdouts on the roster exempt list, which means both players must sit for three games after reporting, an apparent nonfactor for Jackson given his suspension. Or is it?

Here's where it gets odd. Jason La Canfora of NFL Network says Jackson is in danger of missing SIX games if he doesn't report by September 4th.
The NFL released a statement Monday saying that Jackson would have to serve the three-game roster-exempt suspension if he isn't traded or doesn't report to the Chargers by Sept. 4. But Schwartz said Wednesday that he reviewed the matter with NFL Players Association officials, and they analyzed the collective bargaining agreement and don't agree with that interpretation.

"We don't see it the way the league sees it," Schwartz said.
That means the case could go to a judge who would then rule whether or not Jackson's DUI suspension would have to be served after his roster exempt suspension, or if he could serve both concurrently. Either way, once the regular season hits, Jackson now has to think about missing at least three games out from the day he comes in.

Also complicating matters is the fact that Chargers general manager AJ Smith is a hardliner who is the exact kind of person to let a player hold out forever just to prove a point to everyone else in the building.
Usually, a team will give a concession to a player in order to let him save face at the end of a holdout. Smith isn't like that. At all. In fact, he already lowered his offers to Jackson and McNeill. Just to be all high and mighty like that.

A holdout usually ends when a player realizes he can't deal with the idea of not drawing a paycheck. This usually means most players cave at the beginning of the season. In Jackson's case, waiting until after the beginning of the season could mean the difference between getting paid by September, or having to sit out double the time. The pressure on him must be growing by the day. How long could you hold out? Expect him to report sometime next week. A million in the hand is worth two in the bush.