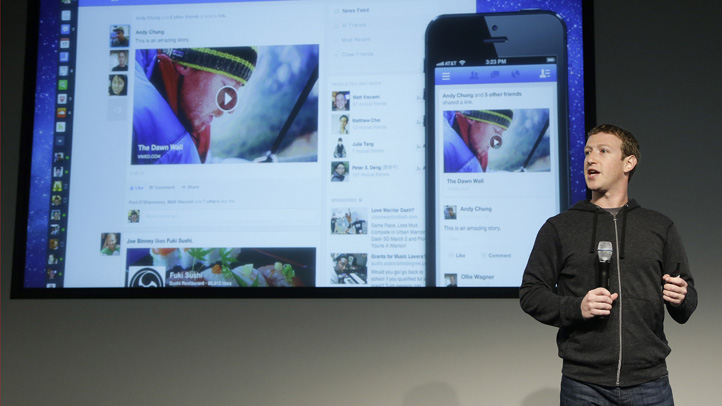 Dressed in his trademark hoodie and jeans, Facebook founder Mark Zuckerberg took the stage today at the company's headquarters to unveil the social networking giant's new News Feed, which has been overhauled to reflect the new ways in which people are using the site.
During an hour-long presentation in Menlo Park, Calif., featuring Zuckerberg and three of his top people, Facebook announced a number of new changes that will be progressively rolling out, including bigger pictures, a choice of feeds and a consistent mobile experience.
The changes will appear to Facebook's tablet and mobile sites in the coming weeks. On the web, a small number of people will be migrated to the new site at first, so the company can collect feedback and put a final shine on the new experience.
"Our mission is to make the world more open and connected," Zuckerberg said in his opening remarks. "What we're trying to do is give everyone in the world the best personalized newspaper... it should have socially and locally relevant updates... let you drill into any topic you discuss, that you want to go over."
One of the reasons for the change, he said, was the change in which people were using the site. Since News Feed launched, the percentage of posts that are photos has nearly doubled, to just less than half of all posts.
The company is focusing on the News Feed because that's what people care about, Director of Design Julie Zhou said. Everyone they talked to told them, "This is what matters to me, these are things that my friends are saying and seeing and doing," Zine said.
Changes to the news feed will include:
Links posted by multiple friends will show more prominently.
Bigger photos and more prominent galleries. In galleries, one photo will be featured, and thumbnails of others will appear below. Profile photos of friends of friends will be bigger, too.
Check-ins will include a map and a description of the location. Third-party apps will get better treatment, with bigger photos.
Videos will play inline, with photos of the posters running alongside. And you can read their comments by putting your mouse over their profile photo.
Upcoming Events will appear in your News Feed, selected from things your friends are doing, as well as based on place where you've checked in in the past.
"We've really spent a lot of time over the last year...trying to understand what we could do to make their experience with the product better," said Chris Struhar, Facebook's tech lead. "And we really heard from people that they wanted more choice and more control over the stories they were seeing on their homepage."
To do that, Facebook is giving the user a choice of feeds to display, using a the "switcher" at the top-right of the page to toggle between them. The choices include All Friends, Most Recent, Close Friends, Music, Photos, Games and Following.
The Music Feed will show photos, concert and album info, stories and posts related to your favorite artist. The Photos Feed will show you all the different pictures you're friends are posting. The Following feed will show you what's happening with the people, places and periodicals you follow.
"The story we're trying to adhere to here is really about getting Facebook out of the way as much as possible," said Chris Cox, Facebook's VP of product. "On the web that really meant pushing the content to the front of the experience and trying to pull back the 'chrome' around it as much as possible."
The team focused on the mobile app, Cox said, because that's where content dominated the Facebook experience. The tablet and smartphone navigation will look mostly the same, while the PC will begin to match their look.
"We're gonna start rolling this out on the web today," announced Cox. "And you're gonna see these design show up on your phone and tablet over the next few weeks. Because this is a big change on the web, we're going to be very, very careful and slow about how we roll it out.
"What we're likely to see over the next period of time is a small amount of people moving into the experience, us getting a lot of feedback, and as soon as we've got it to a super polished and good place, we'll be rolling it more broadly."