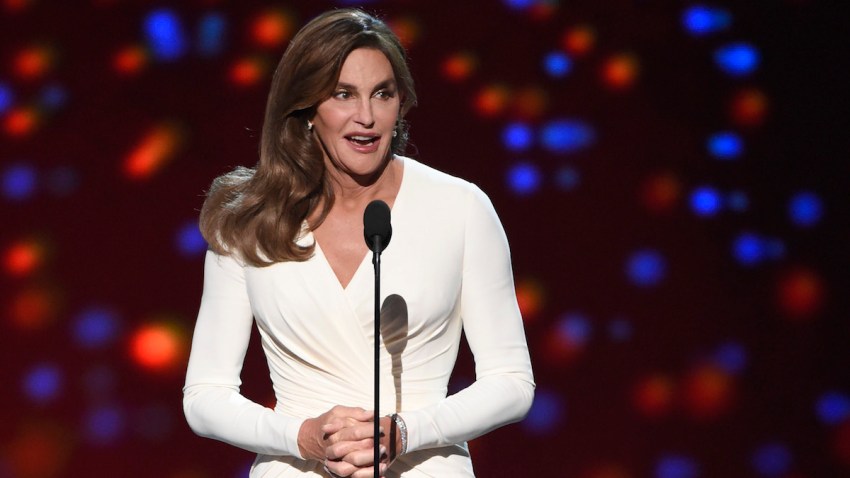 Many were moved by Caitlyn Jenner's special recognition at the 2015 ESPYs on Wednesday night, but it proved to be an exceptionally memorable night for one ESPN employee.
Courtney Pollack joined ESPN in 2003, and in 2004 she became the first transgender employee at the network to transition on the job from male to female. She is the communication chair for ESPN EQUAL, ESPN's Employee Resource Group (ERG) for lesbian, gay, bisexual and transgender employees, and on Wednesday night, she experienced Caitlyn's monumental moment live.
"The most anticipated moment of the show began as soccer star Abby Wambach introduced Caitlyn Jenner as the 2015 recipient of the Arthur Ashe Courage Award," Pollack wrote in a piece for ESPN Front Row.
"A beautiful video package was played highlighting the life of Ms. Jenner's Olympic fame, and her struggles with gender identity. She graciously accepted the award which was followed by a very powerful and moving acceptance speech," she continued.
"With tears in my eyes, my children's hands clenched in mine, I realized that on this very night, the transgender community had finally arrived!"
What made the night even more remarkable was that Pollack and her children had the opportunity to meet Caitlyn following the awards show during Jenner's private reception.
"With my kids in tow, my ESPN colleagues Sara Johnson (with her brother), Christina Kahrl (alongside her wife) and I were escorted to a private reception where we would join Caitlyn with her family and friends to celebrate her special night," Pollack wrote.
"We met Caitlyn, and shared food and drinks, accompanied by wonderful conversation with her and other guests. This was absolutely a moment I will cherish for the rest of my life."
In her emotional acceptance speech, the 65-year-old Olympic athlete spoke up for the transgender community, encouraging everyone to try and be accepting of one another. She also thanked her wonderfully supportive family, later admitting to Good Morning America's Robin Roberts that "it wasn't easy" to hold her emotions together when talking about her kids.
"My family have been so supportive of what's happening," said Caitlyn, whose six biological children (Kylie, Kendall, Brody, Brandon, Casey and Burt Jenner) and three stepchildren (Kim, Khloe and Kourtney Kardashian) were all in the audience cheering for her. "My kids are great. They're absolutely wonderful. I'm blessed to have just wonderful children."
It was with their support, Caitlyn told Robin, that she was able to go public with her transition. This marked a major milestone in LGBT history, and as Caitlyn bravely shared her own story, she empowered others like her and helped the general public understand, as she put it, that "we're all different. It's not a bad thing. It's a good thing."
Watch the "I Am Cait" premiere on E! on Sunday, July 26 at 8 p.m.
Copyright E! Online