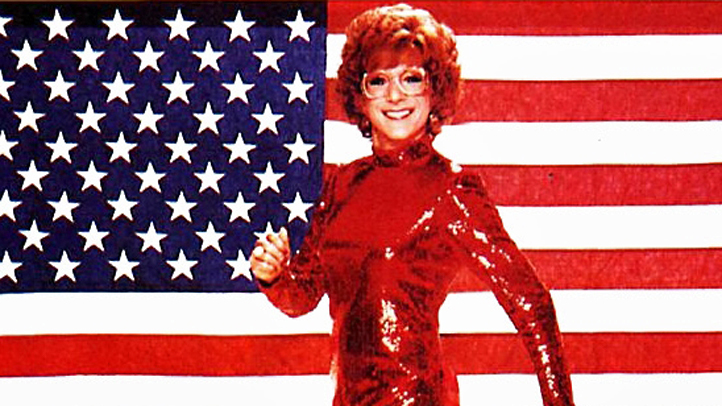 Dustin Hoffman, who won an Oscar for portraying a workaholic's transformation into a doting dad in "Kramer vs. Kramer," deserves a Webby for showing a sensitive side of himself in a suddenly viral video.

An American Film Institute interview, in which Hoffman chokes back tears while describing how donning a dress for "Tootsie" made him realize his own sexist and shallow streak, took off this week like Dorothy Michaels' meteoric soap opera career in the classic 1982 comedy.

The video, which has logged more than 2.75 million hits on YouTube, reinforces Dorothy's status as an unlikely feminist icon. The short also solidifies Dorothy as the most memorable role of the 75-year-old actor's storied career, with a more lasting impact than Benjamin Braddock in "The Graduate," Raymond Babbitt in "Rain Man" or Ratso Rizzo in "Midnight Cowboy."
In "Tootsie" – essentially "Some Like it Hot" with a soul – Hoffman plays Michael Dorsey, a talented but uncompromising New York acting teacher who can't get any roles for himself. So he transforms into Dorothy for part on a cheesy hospital-based soap opera, "Southwest General."
He falls in love with his unwitting, vulnerable co-star (Jessica Lange) and fends off advances from her father (Charles Durning) and droll barbs from his roommate (Bill Murray). Dorothy's no traditional beauty, but her indomitable spirit makes her a star – and a much-needed friend to Lange's Julie.

In the AFI video, posted in December, Hoffman spoke about doing a screen test in women's garb before filming "Tootsie" and seeing he wasn't as physically attractive as he had hoped.

He recalled a tearful conversation with his wife: "I think I'm an interesting woman… and I know that if I met myself at a party I would never talk to that character because she doesn't fulfill physically the demands that we're brought up to think women have to have for us to ask them out."
"There's too many interesting women I have not had the experience to know in this life because I have been brainwashed," he added, struggling with his emotions. "That was never a comedy for me."

It's still a damn funny movie, even if the serious lesson Hoffman learned before filming helped elevate "Tootsie" well beyond the realm of expert screwball comedy. The flick is worth repeated viewings – or a first look for the uninitiated. So is Hoffman's video, the most genuine performance of his career. Check it out below:
Hester is founding director of the award-winning, multi-media NYCity News Service at the City University of New York Graduate School of Journalism. He is the former City Editor of the New York Daily News, where he started as a reporter in 1992. Follow him on Twitter.
Copyright FREEL - NBC Local Media