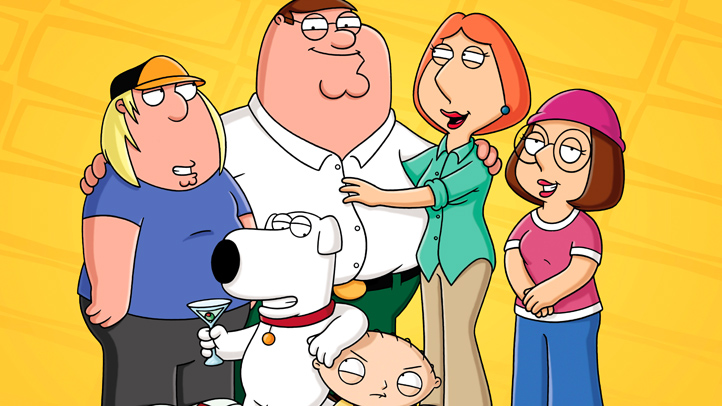 "Family Guy," during its 12-season run, has consistently proved an equal-opportunity offender through irreverent humor that makes some cringe and others laugh. But "Family Guy" crossed a new line Sunday night by committing its worst sin yet: turning serious with the shocking – and senseless – death of Brian Griffin.
Getting upset about the demise of a talking dog on a TV cartoon that turned depictions of projectile vomiting and battles with a giant chicken into comedic art seems as silly as some of the outsized reactions to controversies spurred by the Fox program over the last nearly 15 years.
But Brian's earned from viewers the kind of loyalty he gave the Griffin Family: On a show that plays primarily on a silly and surreal level, the paunchy, middle-aged Snoopy-inspired canine served as the most grounded – and most human – of characters.
Brian not only talked – he had something to say. He brooded (over his faltering writing career). He lusted (after Lois, the one woman he could never have). He sang (beautifully, taking the stage with Frank Sinatra, Jr.) He drank (to excess, winding up in bed with Quagmire's transsexual dad). He loved and was loved by everyone (except Quagmire).
Brian was closest to Stewie, the genius baby once bent on world domination, now a mellower adventurer. Not only could Brian hear Stewie, he understood him – they were parts of the same being, with Brian's super-ego usually unable to contain Stewie's id.
They teamed on flights of fancy, via Stewie's time machine, turning some episodes into twisted homages to the Bob Hope and Bing Crosby "Road" movies. Stewie and Brian tweaked Hitler. They saved Christmas (after ditching Stewie's plan to assassinate Santa). In perhaps the best installment in "Family Guy" history, they traveled to parallel universes, delivering a brilliant Disney parody.
The "Multiverse" episode that spanned space and time showed great imagination – unlike killing off Brian, which smacks of a cheap gimmick from a show out of ideas and desperate for attention, even amid a solid season. Generating negative publicity isn't new for "Family Guy." What's different in this case, though, is that the outrage isn't coming from interest groups, but from devoted fans, as evidenced by a flood of #BringBrianBack tweets.
Perhaps the most stunning aspect of Brian's death is the almost pedestrian way he went: hit by a car while getting ready to play street hockey with Stewie, who had just destroyed his time machine after altering history one time too many. The emotional deathbed scene felt out of character for the show. So did Stewie, unable to get a key part for a new time machine, quickly giving up on plans to rebuild his contraption and go back in time to save Brian.
Stewie's already been won over by the new family dog, Vinnie, who might have been at home with the crowd at a certain summer share in New Jersey – and certainly fits in with the "Family Guy" tendency toward characters equal parts offensive, funny and likable.
It's difficult to believe that show creator Seth MacFarlane would allow the death of the Griffin family member closest to him in voice, and, we suspect, in spirit. Anything, as MacFarlane has shown us via Stewie and Brian's adventures, can happen in a cartoon. Let's hope we'll somehow again see Brian back in Quahog working on that novel he'll never finish.
In the meantime, fans are left to mourn an oddly compelling TV character – as well as a show that's lost its best friend, and perhaps its way. If you think you can stand it, check out this video salute to Brian Griffin, who was struck down before his time in dog years and TV years alike:
Hester is founding director of the award-winning, multi-media NYCity News Service at the City University of New York Graduate School of Journalism. He is also the author of "Raising a Beatle Baby: How John, Paul, George and Ringo Helped us Come Together as a Family." Follow him on Twitter.
Copyright FREEL - NBC Local Media