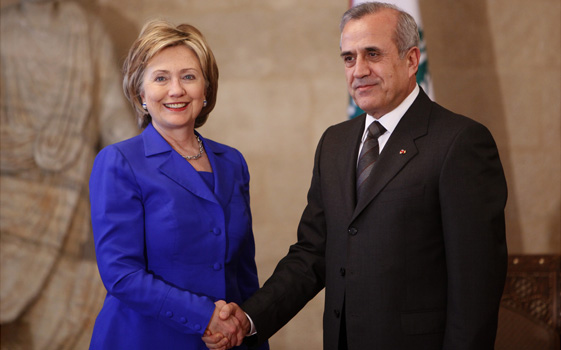 Hillary Clinton made an unannounced three-hour stop Sunday in Beirut, where Syrian- and Iranian-backed militant Shiite group Hezbollah is gaining support in advance of the June 7 election, and met with Lebanese President Michel Suleiman.

At a press conference after the meeting, she said that the U.S. supports "voices of moderation" and won't broker a deal with Syria that undercuts Lebanon, according to an AP report.

"There is nothing that we would do in any way that would undermine Lebanon's sovereignty," Clinton said.

"I want to assure any Lebanese citizen that the United States will never make any deal with Syria that sells out Lebanon and the Lebanese people. You have been through too much and it is only right that you are given a chance to make your own decisions,"

Clinton did not say what the U.S. would do if Hezbollah wins the elections, but AP says that "U.S. officials have said they would review aid to Lebanon, including military assistance, depending on the composition of the new government."
Copyright POLIT - Politico