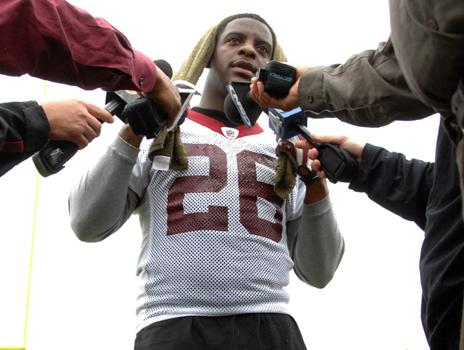 Clinton Portis may be a new man, but he's got the same old ability to send the Redskins' PR staff scrambling with every soundbite.
It's both a blessing and a curse, and after he was asked this morning about the Jets' alleged treatment of a female TV Azteca reporter Ines Sainz, it prompted a round of apologies.
Portis was making an appearance on 106.7 The Fan's Mike Wise Show when the conversation turned to the NFL's investigation into the incident, during which the Jets deliberately threw passes at Sainz in practice and then hurled inappropriate comments at her in the locker room.
CP wasn't familiar with the situation, but hosts Holden Kushner and Brian Mitchell filled him in on the details. Dan Steinberg transcribed Portis' notable reponse:
"You know man, I think you put women reporters in the locker room in positions to see guys walking around naked, and you sit in the locker room with 53 guys, and all of the sudden you see a nice woman in the locker room, I think men are gonna tend to turn and look and want to say something to that woman. For the woman, I think they make it so much that you can't interact and you can't be involved with athletes, you can't talk to these guys, you can't interact with these guys.

"And I mean, you put a woman and you give her a choice of 53 athletes, somebody got to be appealing to her. You know, somebody got to spark her interest, or she's gonna want somebody. I don't know what kind of woman won't, if you get to go and look at 53 men's packages. And you're just sitting here, saying 'Oh, none of this is attractive to me.' I know you're doing a job, but at the same time, the same way I'm gonna cut my eye if I see somebody worth talking to. I'm sure they do the same thing."
And there it was: the old familiar sight of a point flying right over Portis' head. He was hopping about in man's basest functions, while the ability of women reporters to function like professionals buzzed his head like a scene from Top Gun.
Portis issued a statement of apology Tuesday afternoon.
"I was wrong to make the comments I did, and I apologize," he said in words distributed by the Redskins. "I respect the job that all reporters do. It is a tough job and we all have to work and act in a professional manner. I understand and support the team on these issues."
Executive Vice President Tony Wyllie also issued a statement: "The Washington Redskins have a clear and unambiguous policy about being professional on these issues and we will take the necessary steps to remind everyone about it."
Portis' comments were almost immediately condemned by the NFL as "clearly innapropriate, offensive" -- but considering the number of Jets reported to have been involved in the Sainz incident, it's obvious he's not the only one who could use a crash course in Not Reducing Everyone To Their Genitals All The Time And Also Sexually Harrassing Them.
But as per usual, he's the guy with no filter.