Natalie Morales describes her adopted shelter dog Zara as part of her family, like "our third child."
The "Today" co-host first met her mutt four years ago, after Zara appeared on the NBC morning show.
"It was love at first sight," Morales said.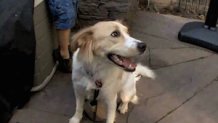 On August 15, other deserving shelter pets will get their chance to find a forever home with a family like Morales' when the first nationwide Clear the Shelters adoption drive kicks off.
Twenty-eight local NBC and Telemundo television stations, including regional news network necn, are partnering with more than 300 animal shelters across the country with a goal of finding new homes for thousands of homeless pets. On this day, many participating animal shelters will offer no-cost or reduced fee adoptions or waive pet spaying and neutering fees.
Morales will host a 30-minute post-adoption drive special that will recap the previous week's national day of action. It can be seen Aug. 22 on all 11 NBC Owned Stations, plus more than 100 NBC affiliate stations. Telemundo stations will also air a post-adoption drive show on the same day.
Morales adopted Zara through the North Shore Animal League, which is one of more than 300 groups participating in the Aug. 15 adoption drive. She said that after overcoming some initial shyness, the new addition quickly took to Morales' sons, Josh and Luke, and became part of the family. Not much was known of Zara's history pre-adoption, other than she was saved from a kill shelter in Georgia where she was about to be put down.
While it was love at first sight, Morales admits incorporating a rescue dog into her family of four came with challenges. Though Zara was fluffy and friendly, she needed basic training both indoors and out. But the effort was well worth it according to Morales, who says Zara now accompanies her on exercise runs and has settled in to a family unit that also includes a rescue cat.
"Look for a dog that you think will fit your family," Morales advises of what to consider when adopting a shelter pet.
It's important to match the animal's energy level to that of your family, she says.
"If you want a dog that's going to go running with you — like my dog — find a dog that has a high energy or high activity life to them," she said.
Morales believes shelters are often overlooked by people seeking a four-legged companion.
"I was blown away by the beautiful dogs, some of them pedigree dogs [at shelters]," she said. "They deserve second chances. It really is just training them with love and kindness."
"There are so many incredible animals that need homes, and Zara was one of them. I can't imagine life without her now."