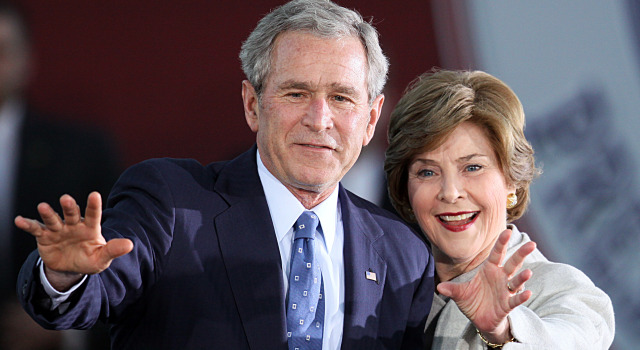 Everybody from the Bush administration except George W. Bush has been talking to the media lately -- either flacks defending the former president's legacy or Dick Cheney warning America that we're going to be bombed into oblivion now that Barack Obama's in the White House.

So what has George Bush been up to? This and that. Turning down an employment offer from a Dallas hardware store, venturing up to Canada for a tasty dinner and a pleasant chat with a local Chamber of Commerce. You know, fun stuff!

The one thing he has not been doing, thank goodness, is following Dick Cheney's lead and attempting to inject himself into public affairs again. When asked today to comment on President Obama's performance in office, Bush said, "I'm not going to spend my time criticizing him. [...] He deserves my silence."

Not exactly a stirring endorsement, but consider: chances are that Bush doesn't approve of anything Obama's doing in the slightest. After all, the new president has spent the last eight weeks explaining to the American public how all of our problems are really the last administration's fault. Clearly, it's gotten under Dick Cheney's skin, and it has probably riled Mr. Bush as well.

But in contrast to his hot-tempered colleague, Bush has shown admirable restraint -- you might even say class -- in refusing to enter the public fray. Bravo to the former president, who might yet mature into a proper elder statesman. (Unless, of course, he and Cheney are still running the same good cop-bad cop routine that got them through the last eight years.)

Bad cop Sara K. Smith writes for NBC and Wonkette.
Copyright FREEL - NBC Local Media