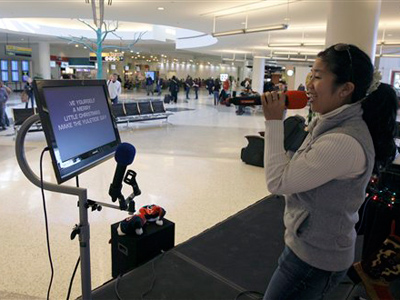 Ah, the wonders of the season. Red-capped Santas and red-nosed reindeers. Sleigh-bells ringing and snowflakes glistening. Stockings carefully hung and yuletide carols being sung ... in an airport terminal. On a karaoke machine.
Deck the halls, and ho-ho-hold that flight. This month, a holiday surprise awaits travelers — and aspiring performers — passing through Houston's Bush Intercontinental Airport.
There it is, just past the security checkpoint, set atop a small stage: a karaoke machine adorned with twinkling Christmas lights and stockings shaped like cowboy boots.
A team of Christmas elves — airport employees the rest of the year — beckons.
"A little holiday karaoke while you wait? It's fun and it's free," cooed Ashley Thompson. "You could be a star."
This is the first year the largest Houston airport has included holiday-themed karaoke among its array of seasonal musical entertainment, which include school choirs and local bands. The karaoke booth will be set up five times around the airport during December.
In this session, on a Thursday morning just after a freak snowfall had frosted Houston, the holiday spirit — or perhaps, the thrill of performing in front of strangers — was strong among airport employees and travelers with some time to kill. One after another, a steady line-up of crooners stepped up to the microphone and belted out holiday classics — each putting their own mark on the melodies.
A tiny boy in a Goofy tee-shirt squeaked out a rendition of "Feliz Navidad," with his mother kneeling by his side and singing harmony. A dark-haired songstress vamped her way through a coquettish "Santa Baby." A pair of blonde-haired gymnasts opened their version of "Jingle Bells" with synchronized handstands.
"I would do that but I haven't stretched yet," joked Jeff Zimbelman, 26, as he took the stage to perform "O Holy Night."
As Zimbelman's pitch-perfect voice lilted across the food court, through the broad terminal hallway and over the line at a nearby Starbucks, harried passengers rushing through metal detectors stopped, stared and smiled. A growing crowd gathered around the stage, and waved their hands to the music.
Zimbelman, an insurance adjuster from Sacramento, Calif., said he loves to karaoke, but usually performs at a bar, after a few drinks.
"Doing this in the middle of an airport is kinda ... different," said Zimbelman, who was on his way home after four months in Houston working with victims of Hurricane Ike. "But this is kind of neat. Every airport should do something like this."
Airport employee Rob Mason came up with the idea and offered the use of a karaoke machine he brings to his mother's nursing home. The silver-haired, velvet-voiced Mason also serves as emcee for the festivities, which he attends outfitted in a tuxedo and bowtie..
"It's so cool we can sing snow songs in Houston," Mason intoned as he introduced a trio of blue-suited businessman, Mike Allen, Brian Evetts and Jeff Steel. "Welcome aboard, gentleman. Welcome to the stage."
The three Dallas-area T-Mobile employees, on a day trip to Houston for business, lined up sheepishly behind the microphones and launched into the unlikely choice of "Frosty the Snowman."
"Thumpety thump thump. Thumpety thump thump," they sang, breaking into chuckles at the lyrics. "Look at Frosty go. Thumpety thump thump. Thumpety thump thump."
"I did some coercing of my co-workers to get them up there. We don't usually do karaoke. And after other people hear us, they know why," confessed Steel, after stepping off the stage. "This really lightens up holiday travel."
For Nancy Flood, a flight attendant for Republic Air, the airport karaoke was welcome entertainment during an unexpected delay. Her flight to Philadelphia was already more than four hours late, and showed no signs of taking off anytime soon.
So, Flood settled down to watch the karaoke and signed up to sing "Grandma Got Run Over by a Reindeer."
"There's no better thing I've seen in any airport, and I've been everywhere," said Flood, 48. "In this economy, there is nothing better than seeing smiles like this. It shouldn't just be for Christmas."
Copyright AP - Associated Press