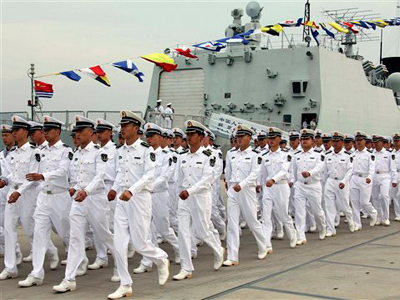 Chinese warships headed toward Somali waters on Friday to combat piracy, the first time the communist country has sent ships on a mission that could involve fighting so far beyond its territorial waters.
The deployment to the Gulf of Aden, which has been plagued by increasingly bold pirate attacks in recent months, marks a major step in the navy's evolution from mostly guarding China's coasts to patrolling waters far from home.
The move was welcomed by the U.S. military, which has been escorting cargo ships in the region along with India, Russia and the European Union. But analysts predicted the Chinese intervention could be troubling to some Asian nations who might see it as a sign of the Chinese military becoming more aggressive.
The naval force that set sail from southern Hanan on Friday afternoon included a supply ship and two destroyers — armed with guided missiles, special forces and two helicopters. China announced it was joining the anti-piracy mission Tuesday after the U.N. Security Council authorized nations to conduct land and air attacks on pirate bases.
The China Daily on Friday quoted Rear Adm. Du Kitchen, the mission's chief commander, as saying a total of 1,000 crew members will be on the three Chinese ships.
"We could encounter unforeseen situations," Du was quoted as saying. "But we are prepared for them."
Pentagon spokesman Maj. Stewart Upton said the U.S. welcomed China's move.
Pirates working out of Somalia have made an estimated $30 million this year, seizing more than 40 vessels off the country's 1,880-mile (3,000-kilometer) coastline. Most of the attacks have occurred in the Gulf of Aden, one of the world's busiest shipping lanes.
About a dozen other warships, including U.S., German, and Danish ships, are in the region as part of a separate international flotilla based in Bahrain and engaged in anti-terrorism operations. Several individual nations, including Saudi Arabia, Russia, Malaysia and India, also have vessels in the Gulf of Aden.
But western nations aren't the only ones that have been combating high-seas piracy. The Indian navy recently intercepted a pirate crew that was threatening a mercantile ship. Even Somalian Islamists have decided to act against pirates originating from their own nation.
Copyright AP - Associated Press