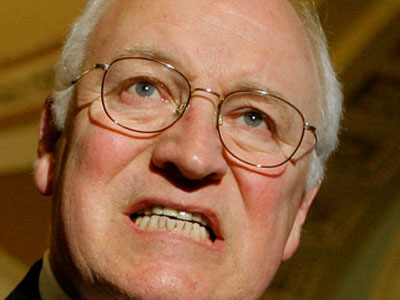 In an exclusive interview that aired on TODAY Tuesday, former Vice President Dick Cheney said that although Barack Obama appears to be learning counterterrorism on the job and handled himself "well" in response to the shooting tragedy in Arizona this month, he will still be a one-term president. The former vice president also said he has "no regrets" about the Bush administration's response to the 2001 terrorist attacks, and believes that Obama is finding out just how difficult such decisions are.
In a wide-ranging interview with TODAY national correspondent Jamie Gangel at his home in Maryland, Cheney also disclosed that he offered to step aside as vice president three times at the end of George W. Bush's first term in office but was told "No, Dick. You're my guy."
'No regrets'
Appearing to have lost much weight since doctors installed a heart pump after his fifth heart attack last February, Cheney, who turns 70 on Jan. 30, said he has not decided yet whether to undergo a heart transplant.
Cheney hasn't had a change of heart about counterterrorism, either, and said that Obama is coming closer to his point of view.
"I think he's been through the fires of becoming president and having to make decisions and live with the consequences," Cheney said. "I think he's learned that what we did was far more appropriate than he ever gave us credit for while he was a candidate ... I think he's learned from experience."
Asked specifically about former President George W. Bush's remark in his memoir that Cheney hardened his views on national security after the 9/11 attacks to the extent that he was viewed as a "Darth Vader," Cheney said he wasn't worried about labels then, and isn't now.
"I've met a lot of friends who publicly have made the claim or the charge, 'That's not the Dick Cheney I knew.' I was tough, aggressive. But the notion that somehow I changed — that I became tough, mean and nasty — no, I don't think so," Cheney said.
"But I also recognized it at the time, that my public image would suffer," he continued. "It went with the turf. And I didn't worry about it. I wasn't out there to sugarcoat my image. I wasn't running for anything; I was there to do a job. And if it meant I had to break some china to get the job done, I did it."
Cheney is writing a memoir, and promised it will contain some "regrets." He declined to divulge many details, but did disclose that he offered on multiple occasions to step aside as vice president if Bush thought that would help him win a second term. "I actually went in about three different times, because I didn't think he took me serious the first time," Cheney said.
"The reason I did it was I thought he needed to have the ability to do whatever was necessary to make sure he won," Cheney added. "I said, 'Look, Mr. President, you know, I've taken a lot of incoming fire. It goes with the turf. But if you have any desire to make a change here, I'll be perfectly happy to step aside so you can put somebody else in this job."

Cheney said Bush thought about his offer for several weeks and finally decided against it. Bush was re-elected with Cheney as his running mate in 2004.
One and done?
Cheney reiterated his belief that a growing deficit and dissatisfaction among voters with Obama's health care legislation will be the Democratic president's undoing.
"I think he embarked upon a course of action when he became president that did not have as much support as he thought it did once he got into the business, for example, of health care reform," Cheney said. "I think his overall approach to expanding the size of government, expanding the deficit — those are all weaknesses, as I look at Barack Obama. And I think he'll be a one-term president."
But Cheney did praise Obama for his public comments calling for calm and civility in the wake of the Jan. 8 shooting tragedy at a Tucson political gathering that left six dead, U.S. Rep. Gabrielle Giffords fighting for her life, and 12 others injured.
"When I first heard the news, I was shocked, I think like everybody else," Cheney said. "I thought the president handled it well. And I'm not an Obama supporter by nature, but I thought this was one of his better efforts."
Heart transplant?
Cheney appeared gaunt, but when he talked about his health, he spoke in the same frank, matter-of-fact tone that he was known for as vice president. He showed Gangel his new heart pump, which helps his damaged heart circulate his blood.
"I'd reached the point, after 30 years and five heart attacks, where I really needed to do something. And it's a wondrous device; it's really a miracle of modern technology," Cheney said, patting the vest that held the pump. "And now I'm here today because we have that kind of technology."
Cheney said that he has not decided whether to seek a heart transplant and gave no timetable for a decision. Meantime, he exercises moderately by taking short walks outside his home on Maryland's Eastern Shore, where he has been working on his memoir.
Regarding the upcoming book, Gangel asked: "Word is it will be candid, blunt, and some scores will be settled?"
"Well, I have a bit of a sense that I'm gonna get the last word," Cheney said.
Asked whether the book will address some of his widely publicized disagreements with Bush, Cheney said, "Yeah, we had some policy differences and sometimes personnel differences, and I'll be forthright with my comments on those."
Copyright MSNBC - MSNBC