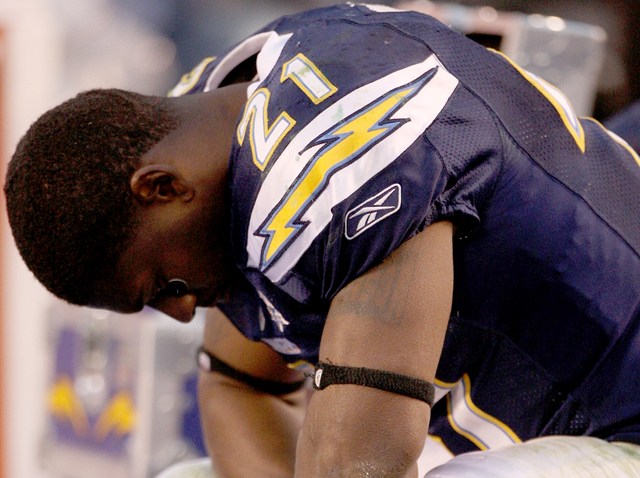 After nine seasons, LaDainian Tomlinson is no longer a San Diego Charger.
The Chargers posted the news just after noon on their Web site stating "Running back LaDainian Tomlinson, the Chargers all-time leading rusher, was released today after nine remarkable seasons in San Diego."
The message posted to Twitter by 619sports says it all, " Sad day, but no surprises here."
Chargers President Dean Spanos met with Tomlinson Monday, according to the team's news release. "This is a part of the business that I hate, and it's particularly hard when you're dealing with someone I consider a friend," Spanos said.
"No matter where he chooses to continue his career, in my mind LT will always be a San Diego Charger. His legacy as one of the greatest running backs the game has ever seen will be as a Charger," he said in the release.
LT, who joined the team in 2001, was one of 53 men recognized as the greatest Chargers of all-time in a ceremony celebrating the team's 50th anniversary last season.
Tomlinson was due a $2 million bonus in early March, which all but guaranteed he would be cut loose as his role diminished on a team that thrived with a pass-happy offense.
The team's Twitter account is asking fans to send LT a message with the #thankyouLT so they can collect them for the running back.
Here are a few:
From @peternudo: #thankyouLT for all the great amazing memories and turning San Diego back into a great football city. You are our savior our hero buddy.
From local blogger @jbruin: you forever altered football in San Diego, #thankyouLT for bringing the electricity back to the blots.
Other notes from fans via Twitter include one from @whitneycgse "literally heart broken in vancouver. I love u LT and wish u the best!!"
LT wasn't immediately available for comment. He said after the Chargers' playoff loss to the New York Jets that he felt he could still play for a few more seasons.
Tomlinson ranks eighth on the all-time rushing list with 12,490 yards. His 138 career rushing touchdowns rank second, and his 153 total touchdowns rank third.
He was the NFL's MVP in 2006, when he set NFL single-season records with 31 touchdowns and 186 points. Tomlinson won the NFL's rushing title in 2006 and '07.
Copyright AP - Associated Press