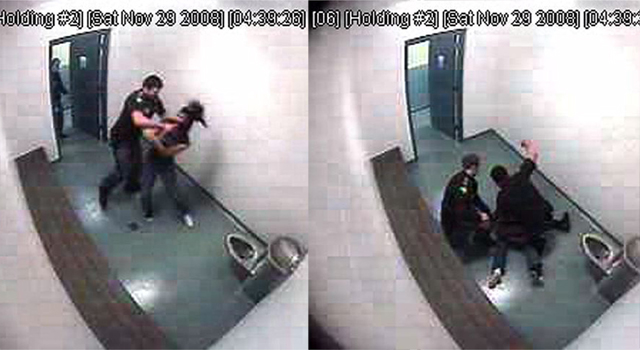 Surveillance footage recently made public shows a deputy roughing up a 15-year-old girl in a holding cell -- apparently striking the girl, pulling her hair and pushing her to the ground, prosecutors said.
Deputy Paul Schene is charged with fourth-degree assault after prosecutors said the tape showed him beating a teen girl at a suburban Seattle jail last November when she was arrested for stealing a car, the Associated Press reported.
"We believe this case is beyond just police misconduct, it's criminal misconduct," King County Prosecutor Daniel Satterberg told the AP. "This is clearly excessive force."
The footage shows the girl kicking her shoes toward the deputy at SeaTac City Hall and then being apparently struck by Schene and pushed to the ground. The deputy appears to pull the girl's hair and slams her to the jail cell floor.
Medics were called in to check on the teen after the attack once she complained of breathing problems, court documents show. She was then taken to a youth detention center where she was booked for investigation of auto theft and third-degree assault against the deputy, the AP reported.
The girl pleaded not guilty to the charged of theft and has not been formally charged with assault.