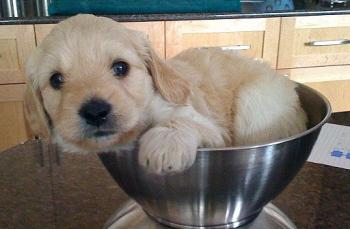 So President Obama's first foreign visit will be to Canada, probably next month, and like any gracious host, the nation is casting about for some sort of tasteful present. Maple syrup candies? Too contrived. Hand-beaded First-Nations moccassins? Potentially racially sensitive. Oh, we know: A puppy!
According to the AFP, the Winnipeg Humane Society recently helped dismantle a puppy mill, seizing 55 Labradoodles, including a pregnant female named Lilly. When Lilly birthed 11 "bright and happy" pups -- and the WHS' director learned that the Obamas had narrowed the field in their search for a dog for Sasha and Malia to just two breeds, including Labradoodles - the agency hit on the idea of offering the pick of the litter as a gift from the Canadian government to the newly-elected leader.

Sure enough, a formal offer has been shuttled through Prime Minister Stephen Harper to "foreign affairs officials, who are considering the proposal." After rejecting Peru's offer of a hairless dog, accepting a Canadian pup seems like a potential diplomatic faux pas to us (no, we're not going to write "faux paw," you can't make us), but it might signal a new era of Can-Am relations.
Copyright FREEL - NBC Local Media