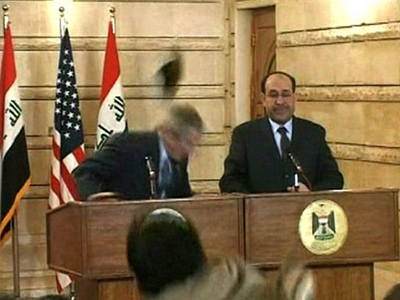 The Iraqi journalist who hurled his shoes at former President George W. Bush in December said at the beginning of his trial Thursday that he did it out of pride for his war-torn country.

Muntadhar al-Zeidi said it was a deep-seated love of his country, not a desire to harm or embarrass President Bush or Iraqi leaders, that motivated him to throw his shoes at the former commander-in-chief at a press conference last year.

"What made me do it was the humiliation Iraq has been subjected to due to the U.S. occupation and the murder of innocent people," al-Zeidi said at his trial.

"I wanted to restore the pride of the Iraqis in any way possible, apart from using weapons," he said.

Al-Zeidi, who was greeted by legions of applauding Iraqi supporters, said at the trial that he thought Bush invaded Iraq without care or caution for its civilian lives.

"I was seeing a whole country in calamity while Bush was giving a cold and spiritless smile," al-Zeidi testified.

"He was saying goodbye after causing the death of many Iraqis and economic destruction," he said.

Al-Zeidi is facing charges of assaulting a foreign leader, which carries a maximum of 15 years in prison, his attorneys said.

The trial was adjourned until March 12.
Copyright AP - Associated Press