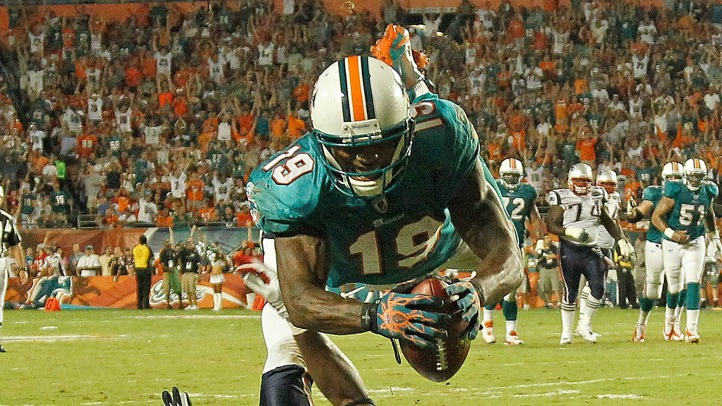 Santonio Holmes was back at the complaint counter on Thursday.
The Jets receiver again offered his negative opinion on the work done by the offensive line when it came to giving Mark Sanchez enough time to get the ball down the field.

You shouldn't expect Holmes to get benched. He's got a much more secure spot in the lineup than Derrick Mason, but you can expect a weekend filled with conjecture about the state of the Jets as a result of Holmes' broadsides.
Thankfully, that conjecture will have to share space with people reacting to the bizarre promises made by Dolphins wide receiver Brandon Marshall.

Marshall, who has gotten off to a fairly slow start this season, said that he was going to play like a monster on Monday night in the Meadowlands.
That doesn't just mean that he's going to put up huge numbers in the passing game. With Matt Moore playing quarterback, it might not mean that at all.
Marshall said that he's going to be so monstrous that he will be ejected from the game halfway through the second quarter. The comments drew laughter and a follow-up question from the assembled writers, but Marshall was deadly serious about his intentions.
"No, I'm not joking. I'm serious," he said. "They're going to fine me. It's probably going to be like a $50,000 fine. But that quarter and a half that I'm out there, I'm going to play like a monster. I might get in a fight with Bart Scott. [Antonio] Cromartie, we pretty much matured our relationship and grew a little bit. We used to fight in Denver and San Diego. If that happens, it happens, so we'll see."
You can probably hear Roger Goodell cackling to himself. There's nothing that man loves to do more than issue fines and he's probably checking with his lawyers to see if he can fine Marshall for predicting a future fine as some kind of gambling.
Marshall said Thursday that he's felt like he's been working too hard to keep his emotions under check this season and wants to change that around on Monday night.

There's a chance that could hurt the Jets because Marshall could put up a dominant performance, but there's a lot better chance that coming unhinged would work against the Dolphins more than it would help them.
And that would wind up helping a Jets team that needs every bit of assistance it can find in order to win a football game. Right now their three losses can still be swallowed as three road games against good teams for a team finding itself.
Losing to the Dolphins would be very different. It would be losing at home to a winless team and that would make the last two weeks seem like a trip to Cabo in terms of how much hell will rain down upon Rex Ryan and company.
So rage on, Brandon Marshall, because the Jets want you as unlikely to help the Dolphins as possible.
Josh Alper is a writer living in New York City. You can follow him on Twitter and he is also a contributor to Pro Football Talk.
Copyright FREEL - NBC Local Media