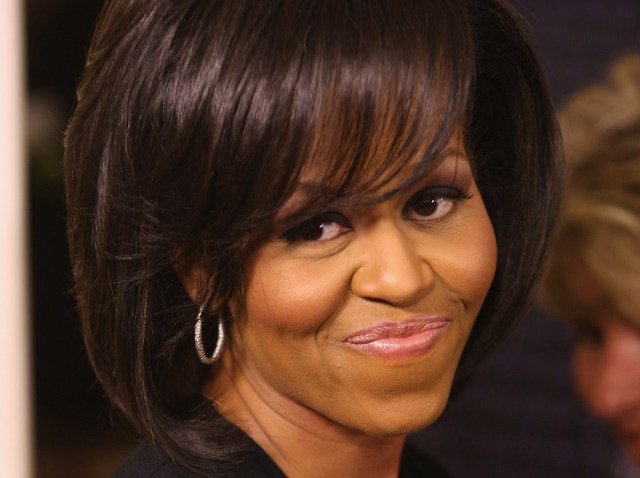 Michelle Obama says she took up fitness to get "revenge" on Barack.
In a candid interview with Barbara Walters to mark the ABC News veteran having named her 2009's most fascinating person, the first lady dished that the secret reason she became a gym rat can be traced back 11 years.
"I really started right after I had Malia, our oldest, and some of that was, you know, in all honesty it was a little sort of revenge because I'm married to a man who has worked out all of his life," she said. "And regardless of how busy he is, he finds the time to work out. And there was a point at which I got a little resentful of that."
After being the first to be woken up at 4 a.m. by her daughter, Obama said she would think: "'I'm up, I might as well go to the gym. And if I get to the gym, then he'll have to wake up and do that feeding.'"
In the wide-ranging interview, Obama also opened to Walters about her "whirlwind" transition to the White House, bumps in her marriage and revealed her guilty pleasure was lounging about with the family dog, Bo.
"I mean, if you think about this year, I had to get these two beautiful girls settled into a new city, into a new home, into a new school," she said. "We got a dog. I visited eight countries with my husband. I planted a garden. I've started a mentoring program. It has been everything. And now, here we are at our first Christmas in the White House."
She said the rigors of campaigning over the course of her 17-year marriage had put her in a "dilemma."
"It wasn't that I didn't believe in my husband as a phenomenal leader," she said. "I mean, that was always the pull -- because I always thought, 'Well, if I wanted somebody as my state senator, or as my U.S. senator, or as my president, I would want Barack Obama.' And the only reason he wouldn't do it is if I said no."
Even though she probably could have "put her foot down" and gotten him to give up his presidential ambitions, she said she didn't want to stand in the way of her husband's dreams and the "possibilities of his leadership."
"I think I made the right call," she said.
In a more lighthearted moment, Obama also revealed her guilty pleasure was watching "really bad TV" with Bo on her lap. But she said she's lucky if she can score one hour a week to veg out.
The Obamas aren't new to Walters list of the year's 10 most fascinating people. Last year, Barack won the the top honor.
Other members on this year's list: Glenn Beck, Brett Favre, Lady Gaga, Kate Gosselin, Michael Jackson's children, Adam Lambert, Sarah Palin, Tyler Perry and Jenny Sanford.