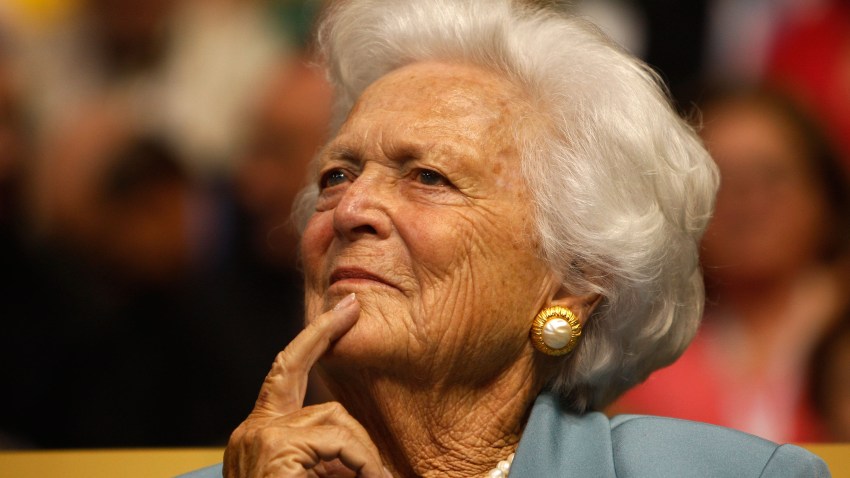 Former first lady Barbara Bush underwent successful open heart surgery to replace her aortic valve, and was awake and talking hours after the procedure, officials said.

Family spokesman Jim McGrath said Mrs. Bush was already up and talking Wednesday night in intensive care only hours after undergoing the 2 1/2-hour heart surgery at The Methodist Hospital.

Former President George H.W. Bush was at the hospital with his wife, McGrath said. The hospital said the former first lady was expected to be released in seven to 10 days.

"I am very impressed with and grateful to the wonderful team of doctors and nurses at The Methodist Hospital who have helped Barbara," the former president said. "We have every confidence she is in the best hands."

The surgery was scheduled last week after Mrs. Bush, 83, experienced a shortness of breath, McGrath said. He said doctors determined the aortic valve had started to harden.

Dr. Gerald Lawrie, a heart surgeon at the Methodist DeBakey Heart & Vascular Center, replaced the valve with a biologic valve, which is made of natural living tissue, the hospital said in a statement. Lawrie said the surgery went "extremely well."

"I expect her to recover fully and soon resume her normal activities," Lawrie said.

When left untreated, a hardened aortic valve can result in heart failure or sudden cardiac death, the hospital said. The valve, on the left side of the heart, can harden with age and become less effective. Symptoms of aortic valve disease include shortness of breath, chest pains and dizziness.

Houston television station KRTK reported that Mrs. Bush almost didn't want her children to know about the surgery because she didn't think it was a big deal. She is the mother of former President George W. Bush and former Florida Gov. Jeb Bush. The other Bush children are sons Neil and Marvin and daughter Dorothy.

Barbara Bush underwent surgery in November for a perforated ulcer. The hospital said the two were unrelated.

The former Barbara Pierce, daughter of the publisher of McCall's magazine, married George H.W. Bush in 1945 when he returned a hero from World War II.

They had their first child, George, while still at Yale in 1946. A daughter, Robin, died in 1953 of leukemia a few weeks before her 4th birthday.

Barbara Bush disclosed she was suffering from an overactive thyroid ailment known as Graves' disease when she lived at the White House. The disease causes teary eyes and double vision, according to her doctors.


Copyright AP - Associated Press