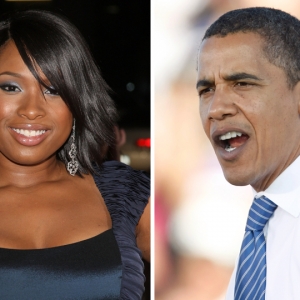 Presidential-hopeful Barack Obama and Queen Latifah have joined the ranks of supporters who have reached out with messages of prayers for Jennifer Hudson, following the loss of her mother and brother.
Stars, friends and fans reached out to the Oscar winner, after her brother, Jason, and mother Darnell Donerson, were found dead on Friday of gunshot wounds. Her 7-year-old nephew, Julian King, is currently missing.

VIEW THE PHOTOS: Jennifer Hudson
"Michelle and I were absolutely heartbroken to learn about this unimaginable tragedy, and we want Jennifer and to know that she is in our thoughts and prayers during this very difficult time," Senator Obama, who is based in the actress' native Chicago, said in a statement to Access Hollywood. "We also pray for the swift and safe return of her young nephew."
The senator has personal experience with the "Dreamgirls" Oscar winner as she sang the National Anthem at the Democratic National Convention, where he was formally named the party's nominee.

Jennifer's "The Secret Life of Bees" co-star Queen Latifah also had comforting words for her friend, telling Access on Saturday that she hoped friends and fans would offer "all the support" she needs.

"When we heard the news of Jennifer losing her mother and her brother, our hearts broke for her and we immediately began to pray for her strength and comfort and that of her family, as well as for the safe return of her nephew," she told Access. "I know the family is devastated and heartbroken and I hope that friends and fans and those who care about her just pray for her and give her all the support that she needs at this moment and for quite a long time to come."

And more prayers came from Sarah Jessica Parker, who starred with Jennifer in "Sex and the City."

VIEW THE PHOTOS: Sarah Jessica Parker
"My heart goes out to her and her family in their time of anguish and grief," Sarah said in a statement to Access Hollywood on Saturday. "I pray for the safe return of her nephew."

Jennifer herself has flown home to Chicago, according to reports, and has called upon her friends and fans for further support.

Related Content from AccessHollywood.com:
PLAY IT NOW: 'The Secret Life Of Bees' Premiere, Los Angeles
PLAY IT NOW: Garnier Fructis Rock Your Style: Jennifer Hudson

MORE ACCESS ON THESE TOPICS: Jennifer Hudson - Queen Latifah - Barack Obama - Crime - TV One

Copyright NBCAH - Access Hollywood